Designer QnA: Garrow Kedigian on Why He's a Super-Early Riser, What Sparks Creativity, and the Greatness of Greek Key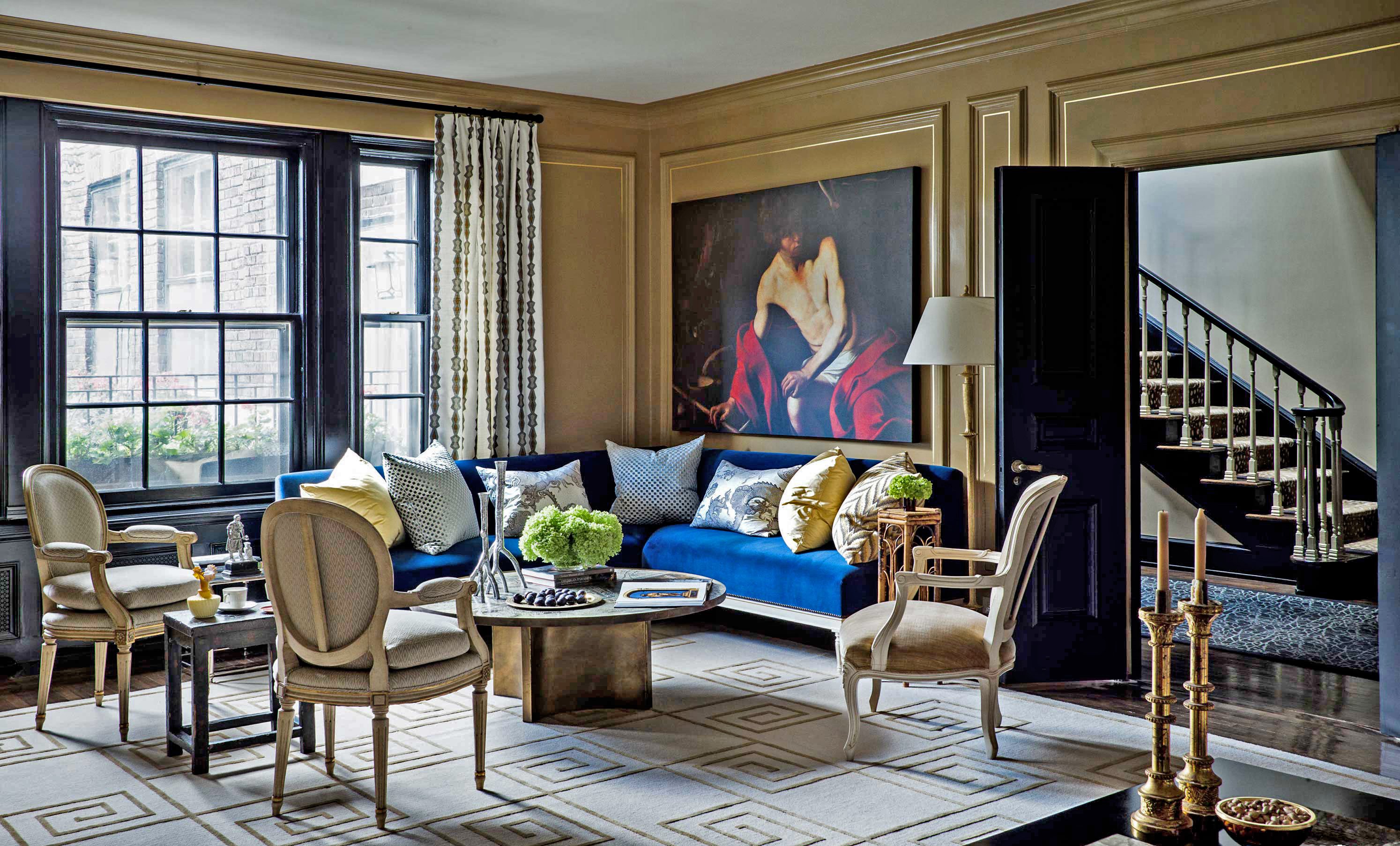 The living room in Garrow Kedigian's Montreal townhouse. Garrow had the walls painted the same tone from top to bottom, including the cove molding and baseboard, with a glossy lacquer in a color he referred to as "brown paper bag," which belies its warm elegance. The panel moldings were embellished with gilt inline borders. The designer's favorite Greek key motif shows up as an overscale pattern on a rug of his own design. A round coffee table is vintage mid-century by Philip and Kelvin LaVerne, with an L-shaped banquette in a vivid sapphire blue and a group of 19th-century French chairs forms a conversation corner. Garrow prefers dark window trim, explaining that it creates a crisp frame for the view during the daytime and disappears at night, so the evening sky and city lights are accentuated.
| | |
| --- | --- |
| | |
| | Garrow Kedigian |
Leading interior designer Garrow Kedigian was born and raised in Montreal. At the age of seven, in a precocious moment which foretold the future, he commandeered his brother and nanny to help him rearrange the furniture in the living room, taking a pair of scissors to the curtains for good measure. He still recalls the feeling of satisfaction he derived from his experiment, and in fact, that arrangement was so pleasing that it became permanent. He grew up spending summers with his maternal grandmother at her grand apartment in Paris. Her stylish Parisian decor made a strong impression on Garrow, and the influence of that effortless, layered, old-world richness can be seen in his interiors today. He attended McGill University's rigorous and esteemed architecture program, and after completing his formal education Garrow moved to Boston, where he spent six years working with AD100 Hall of Fame interior designer William Hodgins, whom he cites as a major influence on his career. Kedigian relocated to New York City in 2000, and after working for several celebrated design authorities, he established his own firm in 2001.
Garrow is known for his timeless interiors, redefining classic style with unexpected, bold touches. His color palette is rich, deep and romantic, with hues that could have been pulled from the paintings of Géricault, one of his favorite artists. A fine painter himself, he has mastered the effect of chiaroscuro and applies the concept to his interiors, where he employs dark and saturated tones with results that are by turns dramatic, elegant or cozy. Garrow will often inject architecture in a room by creating the effect of moldings with paint only, a fresh, modern interpretation of classical detail. He adds drama by manipulating scale, widening doorways to double width, adding cove moldings to extend ceiling height, and choosing oversized artwork and grand lighting fixtures. The resulting aesthetic is chic and luxurious yet approachable and livable.
DISCOVER GARROW KEDIGIAN'S INCOLLECT FAVORITES



A Column Floor Lamp

Lee Stanton Antiques




PHILIP & KELVIN LAVERNE

Signed Circular Laverne Table

Palm Beach Antique & Design Center



TOMMI PARZINGER - PARZINGER ORIGINALS

Tommi Parzinger Sectional Sofa

objects20c




TOMMI PARZINGER

Chic Coffee Service in Brass by Tommi Parzinger

Lobel Modern, Inc.
Tell us something about you that is not in your bio.
I was a figure skater for many years, and that rigorous training forged in me a fastidious and regimented approach to design. For 15 years I was on the ice before school each day by 5:00 am (including Saturdays and Sundays) to practice. Even today, I'm always up early and you can find me at my desk at 4:30 am each morning.
What excites you most about the design process?
I guess the most exciting thing about the design process for me is that it is different each time. Every project has its own particular personality, be it an interesting location, client, or a combination of the two. I'm always excited to start a new project, to get to know my clients. It's like an exploration of people's lives and backgrounds that help me piece together an interior that they will ultimately love.



Left: Kedigian's clients called for bold color, and he answered the call with a vibrant and sophisticated palette in this Pound Ridge, NY home. He balanced the vivid hues with classical millwork and elegant furniture forms. A pair of vintage oversized mirrors framed with an ebony and gilt Greek key design and urns on the mantel are classical elements, with a mid-century Maison Jansen coffee table and a lounge chair with cowhide pattern upholstery adding the necessary chic. Right: Banquette seating trimmed with lavish bullion fringe placed on one side of the dining table makes the most of the floor plan and adds a romantic, playful note. Garrow selected leather seated vintage dining chairs for their mellow patina. A mid-century rosewood oval dining table is centered under the overscale lantern light fixture. Three gestural brushstroke paintings are by James Nares, who crafts his own paintbrushes to create the swirling ribbons of color that are his signature. A mirror-like high gloss ceiling almost floats away, visually extending the ceiling height. Photos by John Gruen
SHOP GARROW KEDIGIAN'S INCOLLECT FAVORITES



Pair of Brass Side Tables

Guy Regal




Pair of Gilt Wrought Iron Floor Lamps in the Ramsay Manner

Lerebours Antiques



Set of Four Biedermeier Chairs

Naga Antiques




Very Rare Turned Wood and Etruscan Painted Amphora-Form Vase

Carlton Hobbs, LLC
| | |
| --- | --- |
| | |
| | |
Name an architect, artist or designer, living or dead, you'd love to collaborate with and why?
I think I'd have to say the architect Bobby McAlpine — currently churning our some of the most exquisite, interesting and beautifully thought through homes I've ever seen. It would really be an honor and pleasure to decorate one of those houses; hopefully someday!!
How do clients push you to think outside of the box and challenge you?
Sometimes clients come to me with an image of something they've cut out of a magazine, something they say they 'love' but when I start to question them about what it is they love about the image they've brought me, often times it's difficult for them to pinpoint it, and they shrug their shoulders and say, 'I don't know, I just love the feeling, I guess....' Sometimes it's puzzling because it's an image of a space completely foreign in context to what we are designing for them...happens all the time, and it's truly a challenge!!!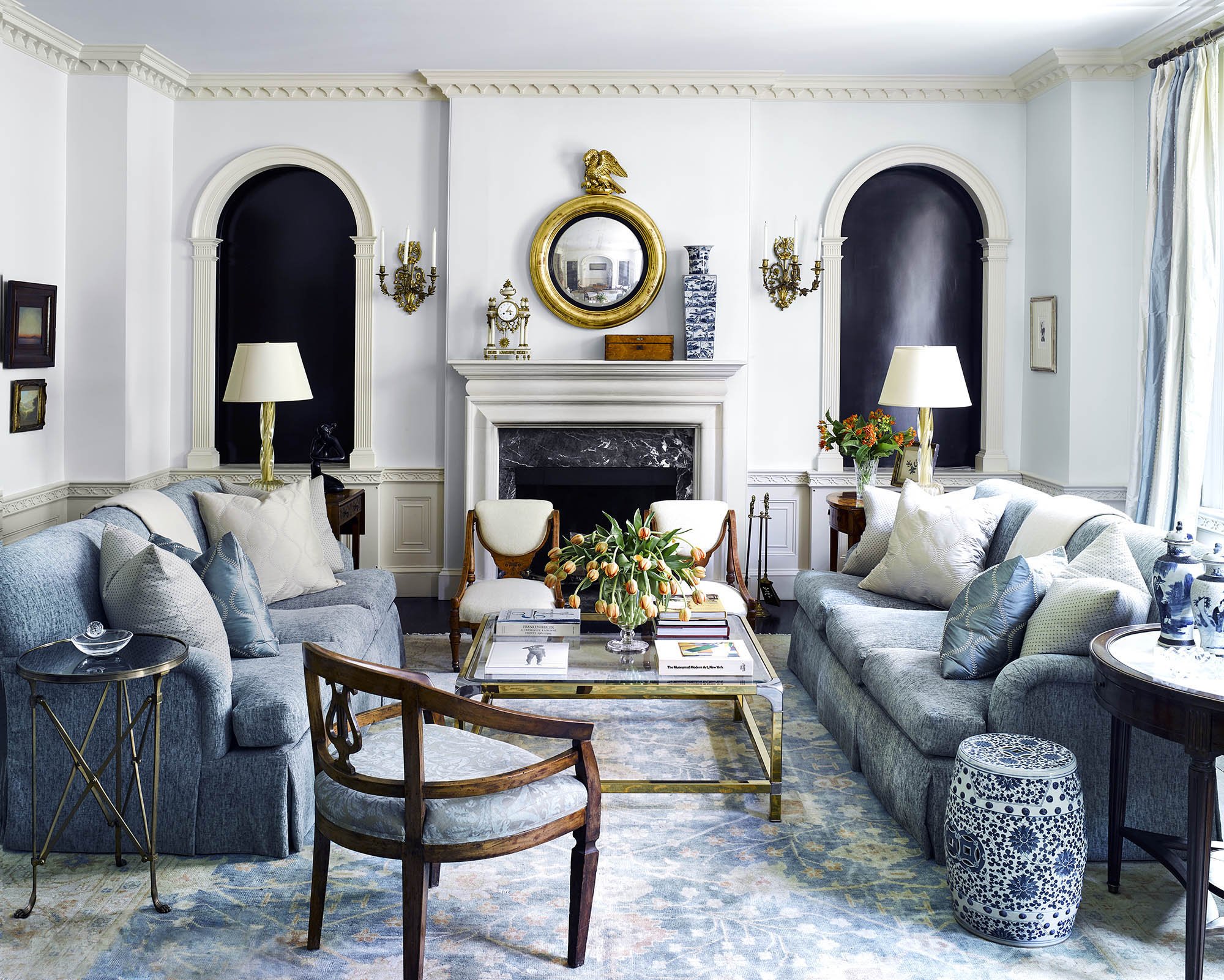 A glamorous prewar duplex on Fifth Avenue is luminous and cloudlike with a palette of celestial blues. The symmetrical furniture arrangement mirrors classical architectural elements, in particular, the niches, which were painted a deep aubergine to accentuate their depth. A pair of Murano crystal lamps from John Salibello are positioned artfully, each framed within a niche. Plush sofas face across a mid-century glass and brass cocktail table. A French Directoire style gueridon with claw feet is at left. Photo by Douglas Friedman

SHOP GARROW KEDIGIAN'S INCOLLECT FAVORITES



A Pair of Painted Swedish Empire Armchairs Circa 1800

Talisman London




A Good Pair of French Maison Charles-Style Brass and Steel Urn Form Lamps

epoca



Antique English Regency Convex Mirror

Susan Silver Antiques




MAISON BAGUÈS

Bronze and Granite Top Table

Flavor
What is your favorite object in your home, and how and when did you acquire it?
Well, they are all things I love, so it's hard to play favorites...but if I had to choose it would be this small bronze urn I found once while shopping in the Paris flea markets. It was in a larger container with many other things but it immediately struck me as being something not from our time. I could see the urn was special and that it exuded a sense of its history to me. I packed that in my carry-on bag and brought it back to New York and later, when I showed it to one of my vendors who specializes in antiquities, he confirmed that the urn I had paid 4 euros for was actually Roman!!!
How does a design project start for you? Is there a particular element that you always start with that inspires the whole project?
I always walk through a project, and with every job it's a different element that grabs my attention and is the generator of my inspiration. It's never really the same starting point, because every project is different, every space and every client's needs are unique. Sometimes I'm inspired by the view out a window, sometimes by some architectural features such as moldings, and sometimes it can be as simple as an element my client loved about their new house that made them want to live there... it always depends...



Left: The foyer of a large Manhattan apartment was designed to be an exciting prelude to the interior spaces, as well as a cozy, enveloping nook for the client to enjoy. Aubergine high gloss walls and bookcases are trimmed in gilt edging. The strong horizontal and vertical lines of the room are offset by curves in the freeform cast aluminum table base and the sloping profile of the high-back chair. The 3-tiered Fortuny silk chandelier is by Stephanie Odegard. Right: A detail of the bookcase, filled with books and bibliots. The plum silk curtains are by the apartment's previous owner, designer Jamie Drake.
SHOP GARROW KEDIGIAN'S INCOLLECT FAVORITES



Pair of Limited Edition Uplight Floor Lamps in Wood and Bronze

L'Art De Vivre




Pair of Rope and Tassel Chairs

Flavor



A Fine Hall Lantern in the Neoclassical Adam Manner

Butchoff Antiques




Pair of Gilt Iron Benches Supported by X-Form Bases with Greek Key Motif

Lerebours Antiques
What is your favorite part of the install process?
Well, I'd have to say the final stages of an installation are always my favorite. Installations are full of stress and chaos, but when you get around to hanging the art and putting a few decorative accessories and books out, that's when you feel like it's finally starting to come together.
What is your dream project?
My dream project would absolutely be doing a 4th or 5th home for a client, because doing such a project most certainly implies that budget is not of concern, and I feel that when people hire a designer to work on their 2nd, 3rd, 4th places, they tend to be less neurotic and less controlling, actually allowing the designer to 'do their thing.' Inevitably those projects ALWAYS turn out the best, when your vision is least diluted.


Garrow loves an oversized lantern. Left: In his Montreal dining room, he hung an oversized vintage 1950s wooden lantern over a glass-topped dining table. The angular chrome base of the table strikes a modern note in the decor. A moody, deep green wall color is offset by the lemon yellow banquette and tangerine leather Louis XVI-style chairs. The portrait of Napoleon over the fireplace was painted by Garrow, who admires the work of the French Romantic painters. Right: The entryway of a Pound Ridge home was a large, boxy cavern lacking character. Kedigian began by creating architectural detail: wainscoting, sidelights and a three-paneled mirror detail over the door, much like an overmantel mirror, which he painted a glossy rich navy. The oversized lantern hangs from the 18-foot ceiling and adds structure to the empty space. Photo by John Gruen

SHOP GARROW KEDIGIAN'S INCOLLECT FAVORITES



Bronze Classical Lantern, France, 2018

Bernd Goeckler Antiques




Set of Six Oak Midcentury Greek Key Dining Chairs

Again & Again



Elegant Pair of Art Deco Black Marble Greek Key Design Tables

NYC Modern




A Large and Stunning Circular Mirror with Greek Key Mirrored Border

epoca
Do you have a signature element — something you always include when styling an interior?
Well, most of my clients will tell you that I LOVE my Greek key, and any opportunity to infuse its presence whether in a bold way or subtly, I'm always eager to throw in a Greek key or two... or more... on every job!!
Tell us what you love about Incollect and what one can expect sourcing with us.
I think Incollect is a great resource because I feel like the items on this site are so curated; they are such incredible pieces.... I don't feel like I have to sift through a lot of things I don't like — in fact sometimes it's hard to narrow down the choices because there are so many wonderful things featured!!!
VIEW GARROW KEDIGIAN INTERIOR DESIGN'S PROJECTS ON INCOLLECT