Discover Astele's Most Popular Furniture & Lighting Designs
Bestsellers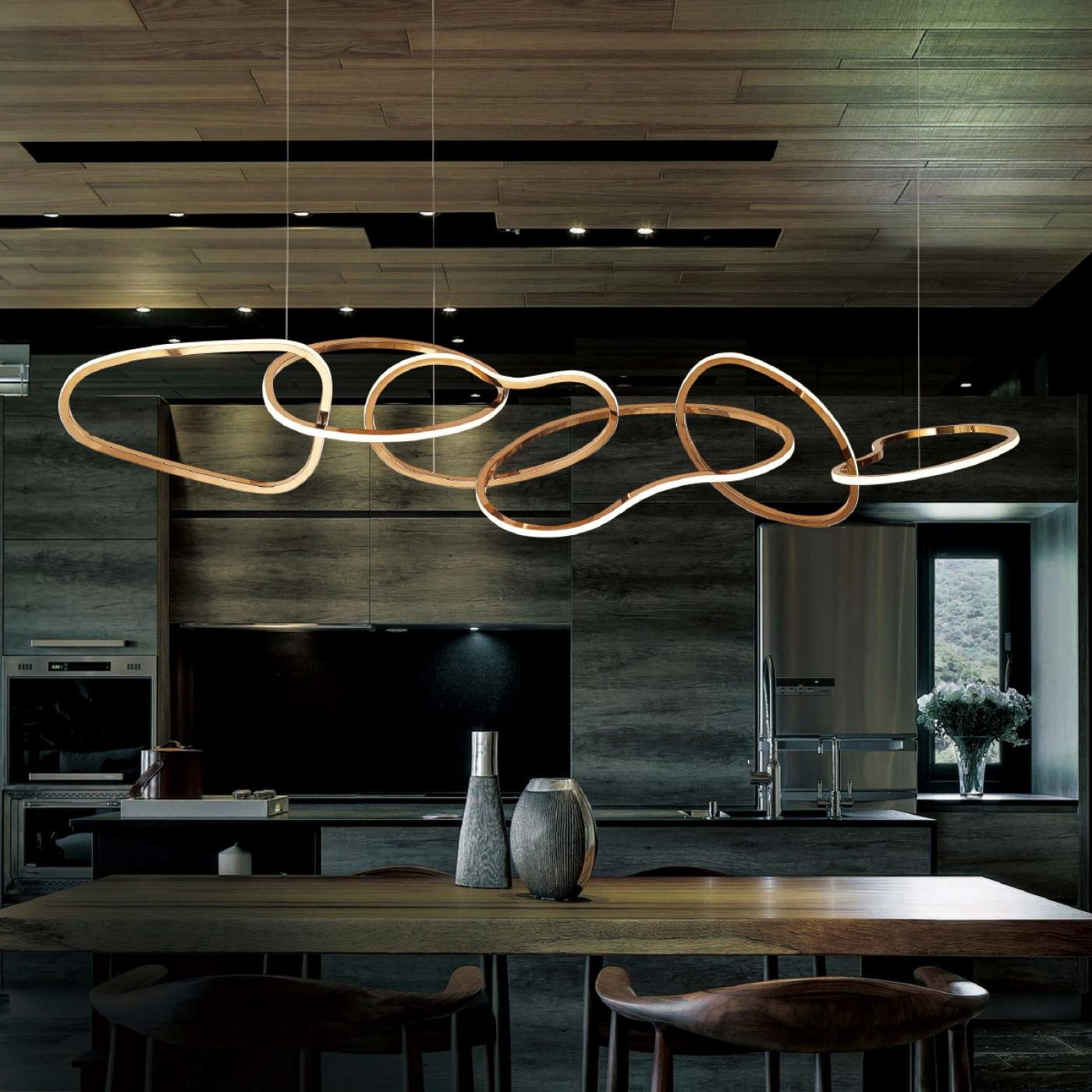 The Maillon Light from Astele complements various interior styles.





The

Langston Bar Chair

from Astele
F
or interior designer and tastemaker Natalie Dunagan, the best furniture makes a statement and defies trends. Dunagan is the co-founder of Astele, a premiere furniture showroom based in Westport, Connecticut, that specializes in high-end transitional design. Also co-owner of Circa Antiques in Westport, she spent her career honing her knowledge of trends from historic to contemporary before launching Astele in 2012. Drawing attention from collectors and designers, their work has been styled in various luxurious settings including Soho House and The Cosmopolitan in Las Vegas, and even the set of the HBO TV show "Succession."
Astele releases between 15 and 20 pieces each year with an emphasis on bar stools, dining chairs, tables, and lighting, which consistently appeal to clients. The line also includes finely detailed customizable tables, lighting, and outdoor furniture. Most of the collection is produced locally in Connecticut — a few are also crafted in a factory outside Porto in Portugal.
"I'm drawn to organic, clean lines in transitional pieces," says Dunagan, explaining the design philosophy behind Astele. Here, get to know several of the the brand's most popular pieces.



The base of the Bronze Grove Table is modeled after a tree.
Astele's sculptural cast bronze pieces, like the Bronze Grove Table and Bronze Grove Console, bring added luxury to the collection. Shown here, the Bronze Grove Table thrives on the juxtaposition of materials. Two branch-like cast bronze bases curve out into demilune shapes beneath the top, made of glass or live-edge hardwood — either exotic or black walnut. Bronze butterflies are inlaid into the surface. The table is available in custom sizes.
The elegant LED Swirl pendant from Astele.
A delicate assortment of rings that seem to balance weightlessly in mid-air, the statement-making LED Swirl pendant is available in a standard set of three, four, six, or eleven rings, as well as custom sizes. Complete with adjustable cables, the dimmable stainless steel fixture can be finished with gold, rose gold, champagne gold, chrome, or black nickel; all versions are offered as polished or brushed. The maximum ring diameter is 51 inches.



This chic bar stool has been sought out for high-end homes and hospitality settings across the globe.
Showcasing classic style and posh details like contrasting piping and brass accents, the Myla Bar Stool is a favorite among Astele's clientele. Its base and legs are crafted from beechwood, with a high-gloss varnish applied to the lacquered legs. The refined bar stool can be found at the Cartier store in Dubai.
Delicate details enhance the refined beauty of the LED Cloud.
In the sculptural LED Cloud light, hundreds of LED bulbs are woven into stainless steel wire mesh. Six larger LED lights sit within the fixture. Adjustable ten-foot cables allow for the chandelier to hang at the best height for the space, and additional cables can be purchased for large-scale spaces. The Cloud can be finished in either white or gold. A conversational piece, the light serves as a key feature in various residential projects and corporate offices.



Designed as interlocking oval metal rings, the Maillon can be easily customized.
Featuring interlocking stainless steel rings, the Maillon series is available in different sizes, and as either a linear horizontal chandelier or drop fixture. Dimmable integrated LED lighting gives it a soft glow throughout. Adjustable cables (standard up to eight and a half feet) help personalize the light. Finishes include rose copper, gold, champagne gold, chrome, and black nickel. Each finish can be polished or brushed, with the exception of black nickel, which is only offered as a polished finish.



The Langston Bar Chair is particularly popular in hospitality projects.
One of Astele's top-selling bar stools, the Langston is available in both velvet and leather, as well as custom upholstery. Solid oak or walnut legs are decorated with polished brass bands. For hospitality settings, Astele can add a four-sided foot rest to maximize comfort. The stool complements the design of the Amazon Spheres in Seattle, a set of conservatories and public space in Seattle that doubles as a creative space for Amazon employees, as well as the luxury penthouse suites at The Cosmopolitan in Las Vegas.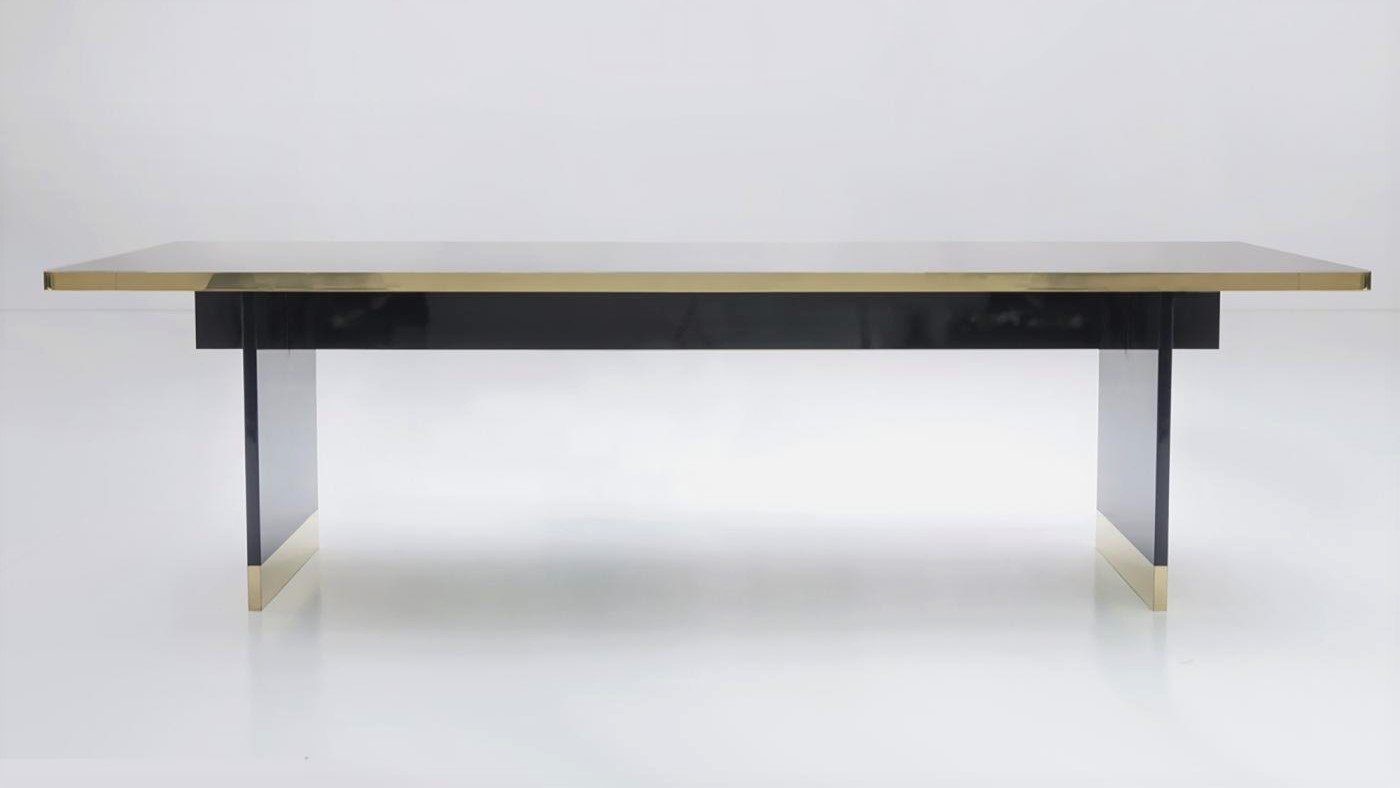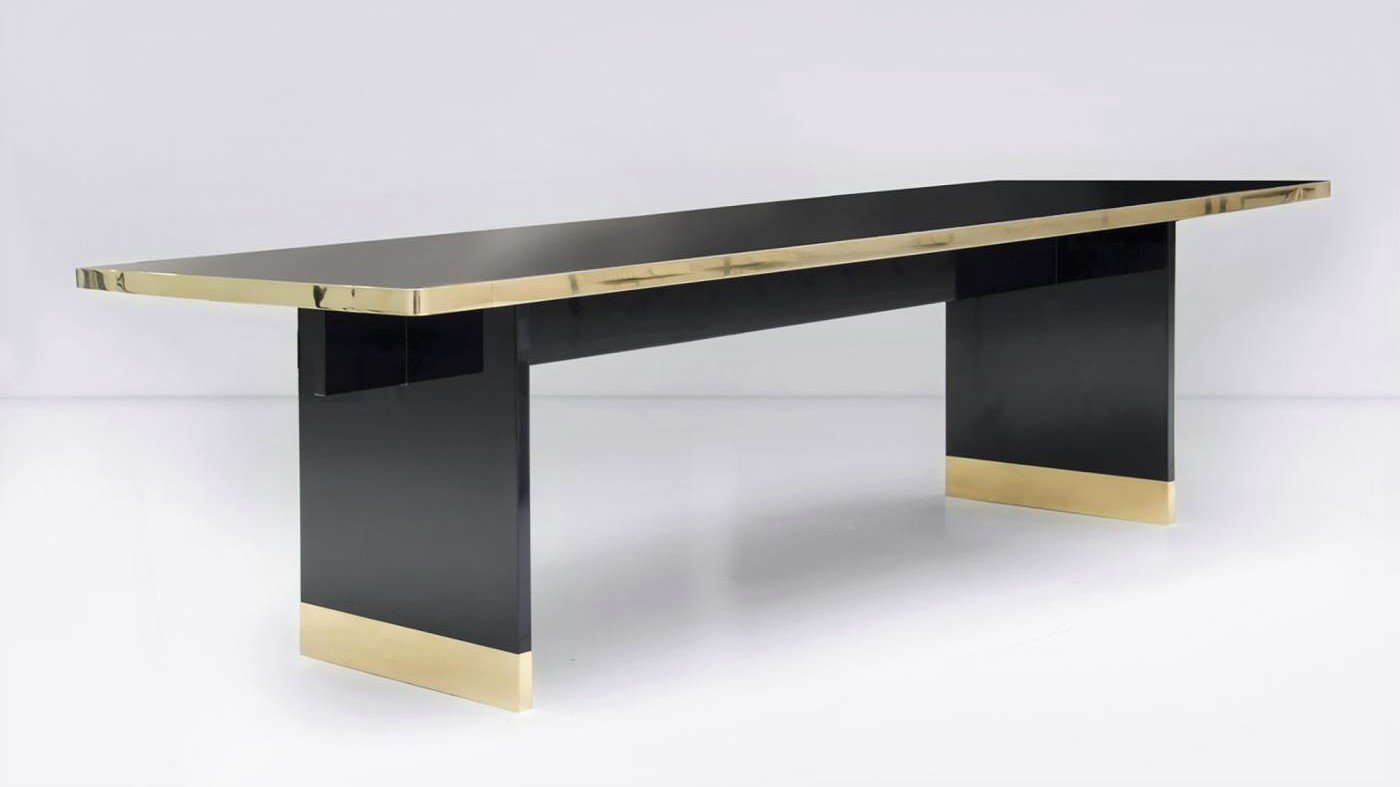 Highly reflective details enhance the sophisticated style of the Winslow Table.

Glossy and sophisticated, the Winslow Table is favored by residential clients. Although the image above shows the table in lacquered wood with brass details and a back-painted glass top, the Winslow can be customized to suit various needs and tastes. Most of Astele's tables can be crafted with wood, stone, concrete, glass, and bronze.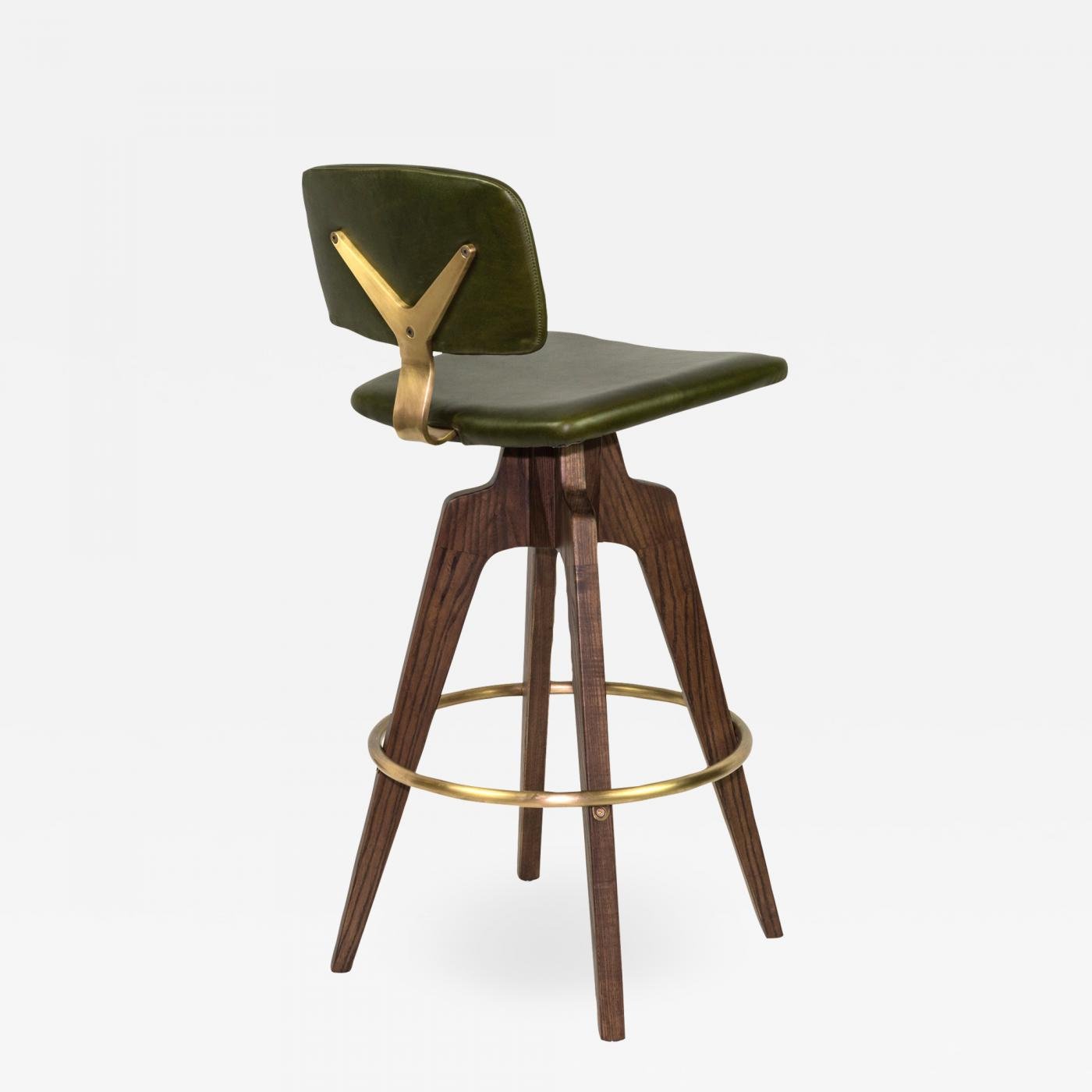 The classic Reeves Bar Stool.
A posh swivel stool, the Reeves is currently styled at multiple locations of Soho House and the Park James Boutique Hotel in Menlo Park, California. The seat and back are fully upholstered in fabric or leather, and brass details — like the footrest and Y-shaped chairback — give the stool an extra dose of contemporary glamour.