Exhibitions Not To Be Missed for July 30 – August 6
COLLEGE AND UNIVERSITY MUSEUMS ARE THIS COUNTRY'S BEST KEPT CULTURAL SECRETS: Donors of major artworks and other collections have found that the big private and public municipal institutions don't have gallery space available for what they want to give (these museums just take things and put them in storage, selling them off later), but colleges are willing to work with collectors. As a result, one sees better and better permanent collections and exhibitions.

Life, Love & Marriage in Renaissance Italy
August 3 – November 4, 2018
Chazen Museum of Art, University of Wisconsin at Madison
Among the many questions that may not have occurred to you is, what objects would be part of Italian weddings from the 14th to the 16th centuries? Perhaps, now we know, thanks to the Chazen Museum of Art, which is hosting an exhibition Italian wedding chests, also known as cassoni, as well as related domestic items such as maiolica wares, fabric, and architectural decorations, in addition to panel paintings. This exhibit was organized by the Museo Stibbert and Contemporanea Progetti in Florence, Italy, which works with museums all over the world to put together specialty shows of objects.
Florentine Manufacture, Madonna on throne with Child and Saints, 1325–1350, Tempera on wood panel, Museo Stibbert, Firenze.
Lasting Impressions: Etchings and Drawings by Carl Bloch
August 10, 2018 – January 5, 2019
Brigham Young University Museum of Art, Provo, Utah
Danish artist Carl Bloch (1834-90) is best known for his paintings of religious and historical subjects. However, Bloch turned his attention to printmaking—a new artistic frontier through which he could pursue his artistic mastery of light, forms and narrative. In the final 10 years of his career, Bloch produced 74 etchings and set a new standard for printmaking in his native country. He created empathic portraits, views of his beloved Danish landscape, as well as significant images of his faith. This exhibition will feature 60 etchings and rare portrait sketches by Carl Bloch.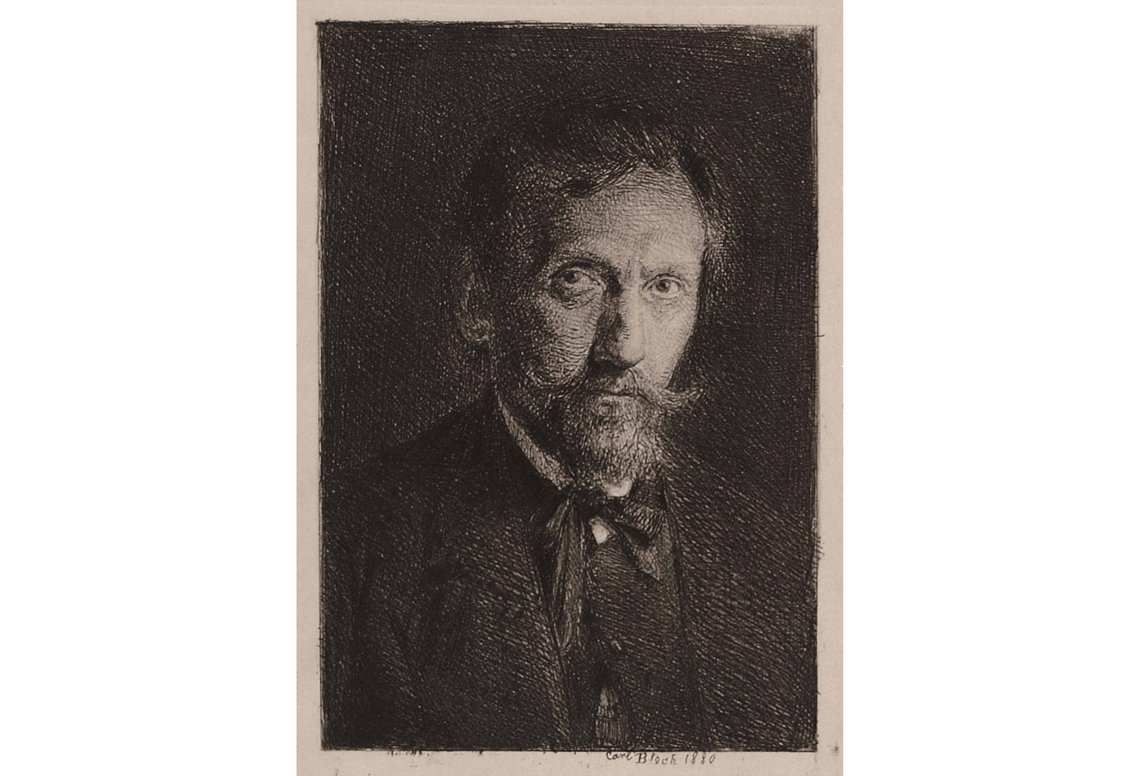 Bloch, Self Portrait, Etching.
The Elaine and Sidney Cohen Collection of Contemporary Ceramics
August 5 – November 18, 2018
Crocker Art Museum, Sacramento, California
Like the interest in fiber art, art pottery is an area of creativity traditionally associated with women that has gained a growing number of practitioners and collectors. In this case, the collectors are Elaine and Sidney Cohen of Phoenix, Arizona who in 2016 donated a sizeable group of contemporary ceramics to the Crocker Art Museum. This collection has a notable range, from the minimalism of Jun Kaneko and Claude Conover to the figurative work of Rudy Autio and Edwin and Mary Scheier. There are pieces that hint at functionality but are not meant to be used, including a covered jar by Viola Frey and the teapot-based forms of Rick Dillingham and Peter Shire, whereas other works are purely sculptural. In all, 60 pieces are on view.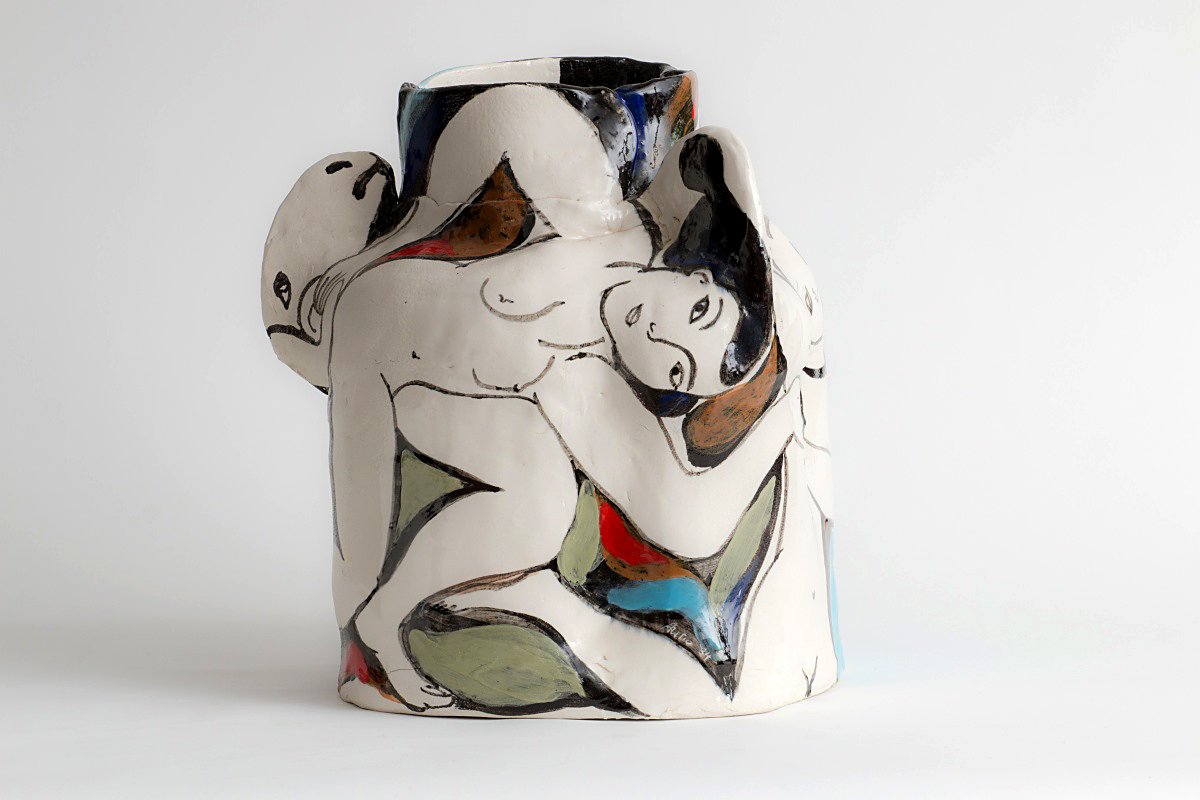 Rudy Autio (1926-2007), Animal Fair. 1984. Glazed porcelain, 14-1/2 x 13 x 13 in. Crocker Art Museum, gift of Elaine and Sidney Cohen.

| | |
| --- | --- |
| | |
| | Omar Victor Diop, Jean-Baptiste Belley (1746-1805), 2014, pigment inkjet print on Harman by Hahnemühle paper. Courtesy of Mott-Warsh collection, Flint, Michigan and MAGNIN-A Gallery, Paris, © Omar Victor Diop |
Beyond Borders: Global Africa
August 11 – November 25, 2019
University of Michigan Museum of Art, Ann Arbor
Exactly what a college or university art museum should do: Expose students to cultures and ideas that they likely haven't experienced in their hometowns and to artists who aren't on the tip of everyone's tongue. This exhibition examines how Africa and its artists have been at the center of complex histories of encounter and exchange for centuries. Bringing together a dazzling array of works made in Africa, Europe, and the United States from the nineteenth to twenty-first century, the exhibition demonstrates the international scope and reach of art from Africa and the African diaspora. It also explores issues such as slavery, colonization, migration, racism, and identity at play in the objects and their histories. Highlights include paintings, photographs, sculpture, and installations by Kudzanai Chiurai, Omar Victor Diop, Wangechi Mutu, and Serge Alain Nitegeka.
Audubon, Then and Now
August 3 – November 25, 2018
Biggs Museum of American Art, Dover, Delaware
In a carefully crafted exhibition, entitled Audubon, Then and Now, the Biggs Museum of American Art will display over 50 rarely seen, original prints of John James Audubon. These hand-painted etchings from the collections of Winterthur Museum and Library and lithographs from the Huntsville Museum of Art will illuminate Audubon's ideas about scientific examination, depicting birds and animals within the emerging United States.
These works will also be displayed alongside the work of contemporary artists from America and the United Kingdom who have been influenced by his monumental animal studies.
Celebrate this extra special exhibition with an opening party on Aug. 3. Enjoy a lovely evening out with wonderful company, a full, hosted bar and a chance to meet some of the contemporary artists featured in the show. Space is limited! Please purchase tickets by Wednesday, August 1st.
Contemporary artists featured in Audubon, Then and Now: Julie Blackmon, Beth Cavener, Ann Chahbandour (image shown), Kate Clark, Hunter Clarke, Kevin Fleming, Laurie Hogin, Kay Jackson, Tom Judd, Karen Knorr, Kate MacDowell, Claire Morgan, Deidre Murphy, Kevin Sloan, Amy Stein and Jamie Wyeth.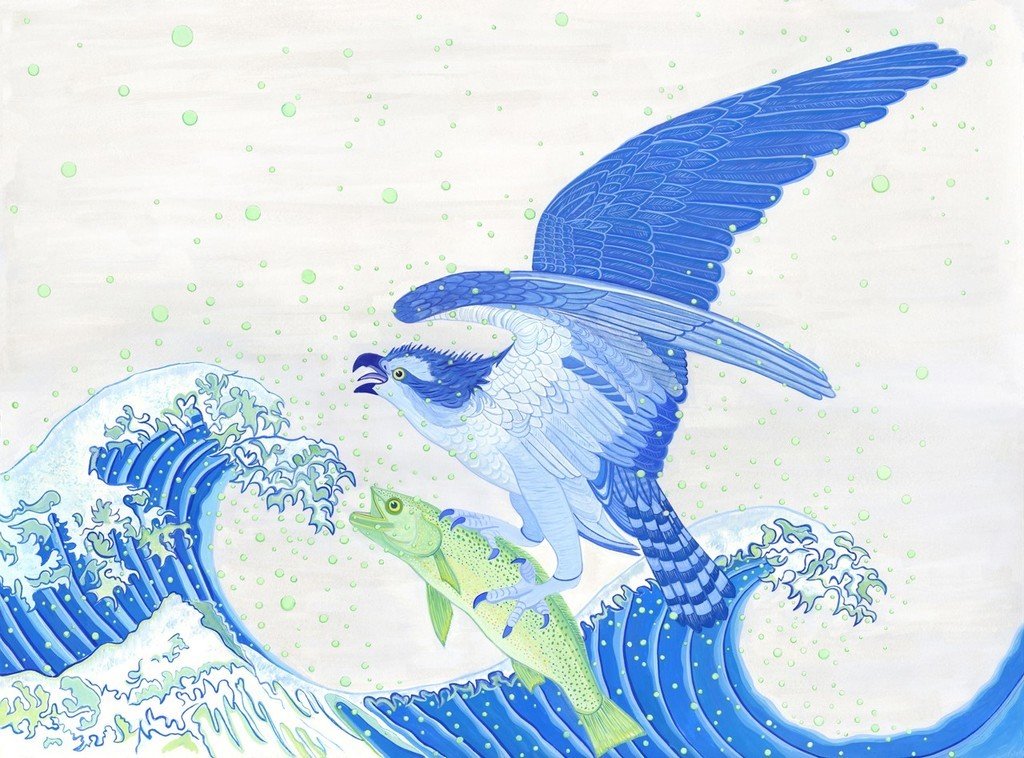 Ann Chahbandour, Beyond Audubon, Osprey.