Incollect Dealers Shine at the 2022 Salon Art + Design in New York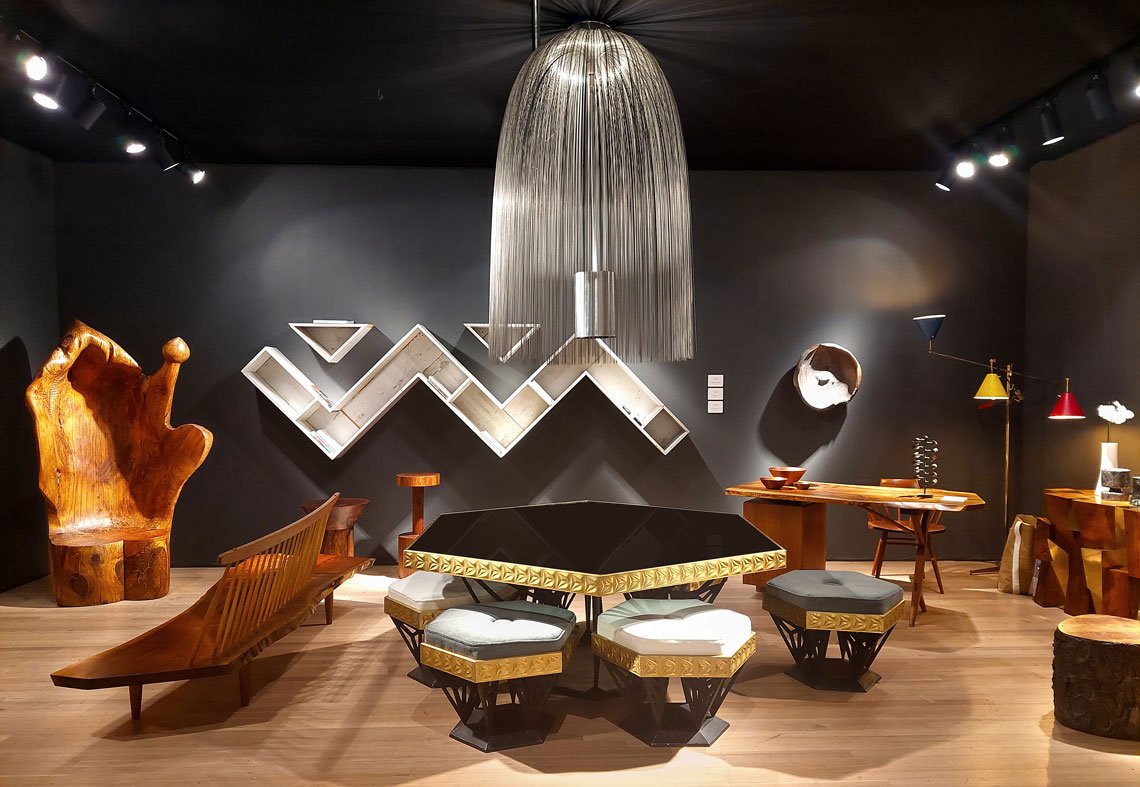 Converso
Incollect Dealers Shine
at Salon Art + Design
By Benjamin Genocchio
Salon Art + Design
Park Avenue Armory
9643 Park Avenue, New York, through November 14
Open now through November 14, the much-admired Salon Art + Design at New York's Park Avenue Armory once again presents a collection of covetable, collectible objects from many of the world's best design galleries. This year, 52 international dealers are on the floor with a new and distinctive accent on design galleries from outside Europe and America — an exciting opportunity to discover previously unseen treasures.
Back again are many of the design world's most prestigious dealers, many of whom display both art as well as design in their booths, along with a mix of vintage and contemporary pieces — all of which make hunting the fair for that special purchase all the more pleasurable. As always, Incollect dealers brought their best, leading the pack with offerings of extraordinary, breathtaking beauty.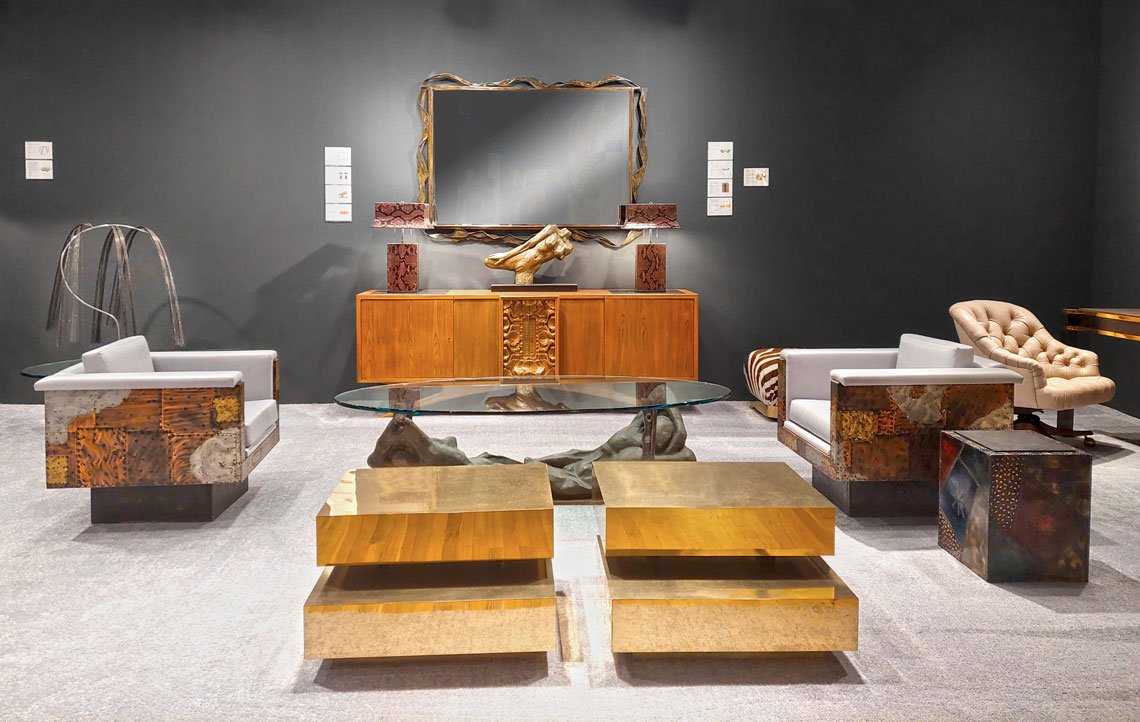 Lobel Modern
Donzella
No one can — or should — miss the Lobel Modern booth, which beckons from the front right side of the fair with a selection of extraordinary individual pieces by gallery favorites Philip and Kelvin Laverne, including a monumental, dreamy one-of-a-kind mirror in hand-welded patinated bronze, and an important 1970s sculptural dining table purchased directly from Kelvin Laverne. Brutalist pieces from Paul Evans include a pair of patchwork cube lounge chairs and a spectacular and rare cabinet from the artist's "Argente" series.
| | |
| --- | --- |
| | |
| Liz O'Brien | |
Donzella also has important pieces by the Lavernes, including a unique and monumental "Synchronicity" sculpture. Vintage Italian lighting by Max Ingrand for Fontana Arte is on display, along with fine vintage furniture by Italian makers Oswaldo Borsani and Gianfranco Frattini — all of which are now design classics. Donzella mixes in a selection of contemporary ceramics, a special passion of his. This year, vintage works from the 1970s are prevalent, and Wexler Gallery has a Jan Yoors hand-knotted wool "Purple Tantra Tapestry" from 1976 which is both fabulous and unexpected.
Sculptural tables abound throughout the fair this year. Liz O'Brien is showing Peter Lane's bubbly, futuristic "Cabochon Low Table", made of glazed ceramic stoneware with palladium leafed details on a steel base. Ceramic stoneware is used in Isabelle Sicart and Francesco Balzano's "Uccelli", a brilliantly inventive three-module side table at Galerie Carole Decombe — the pieces can be arranged in any way, giving the overall structure a marvelous versatility and unique sculptural identity.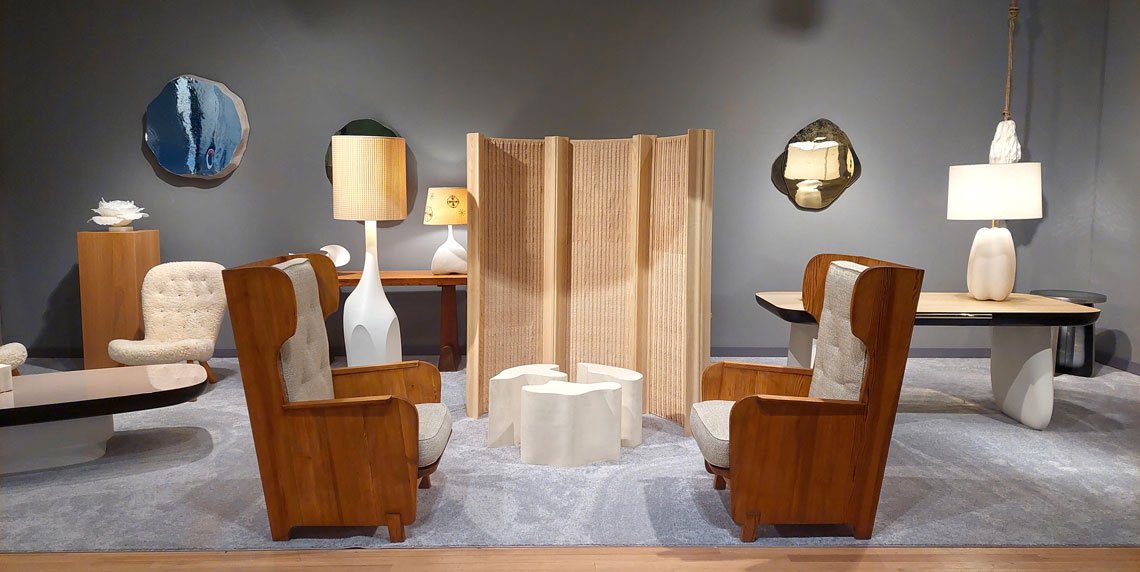 Galerie Carol Decombe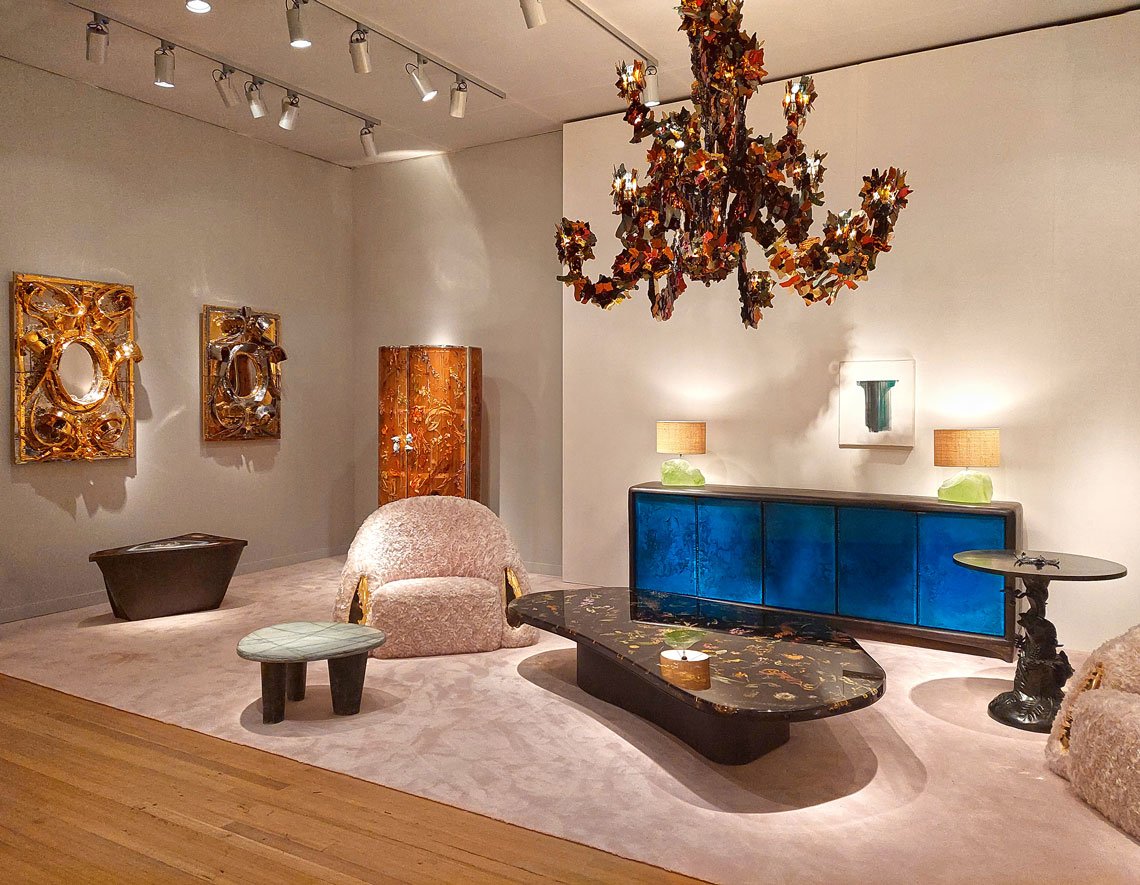 Twenty First Gallery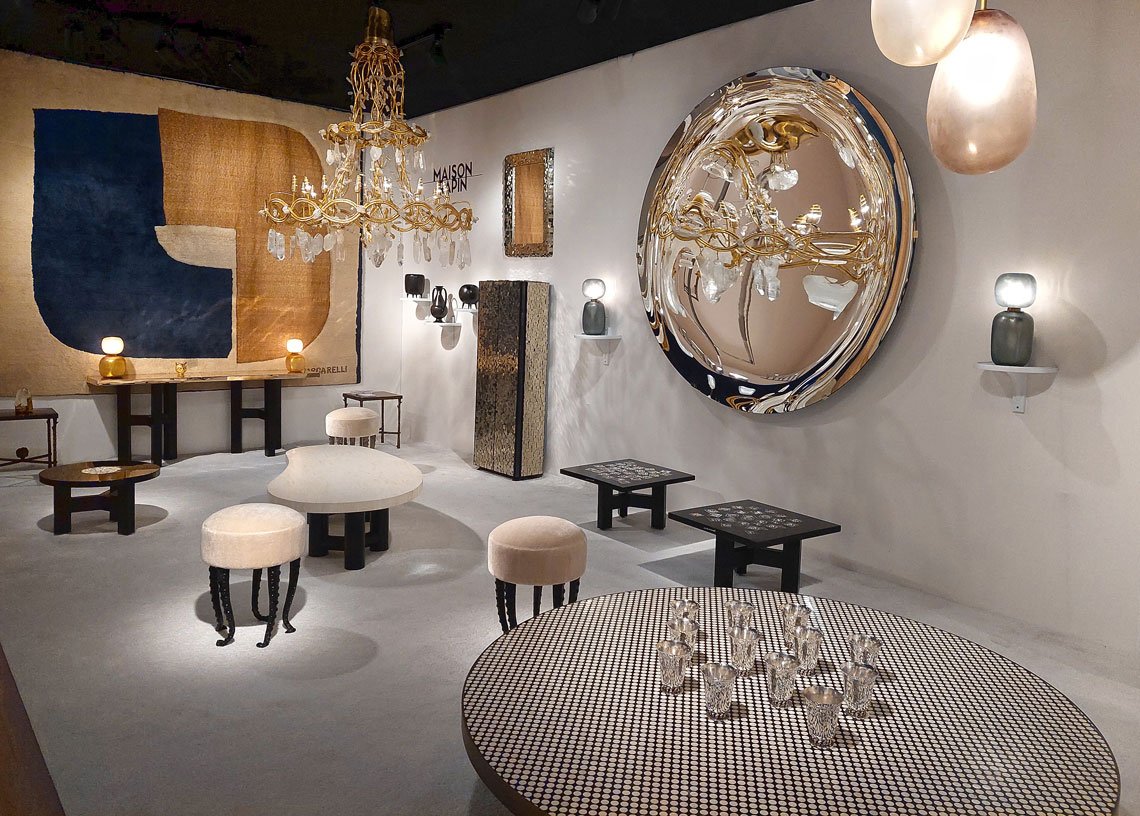 Maison Rapin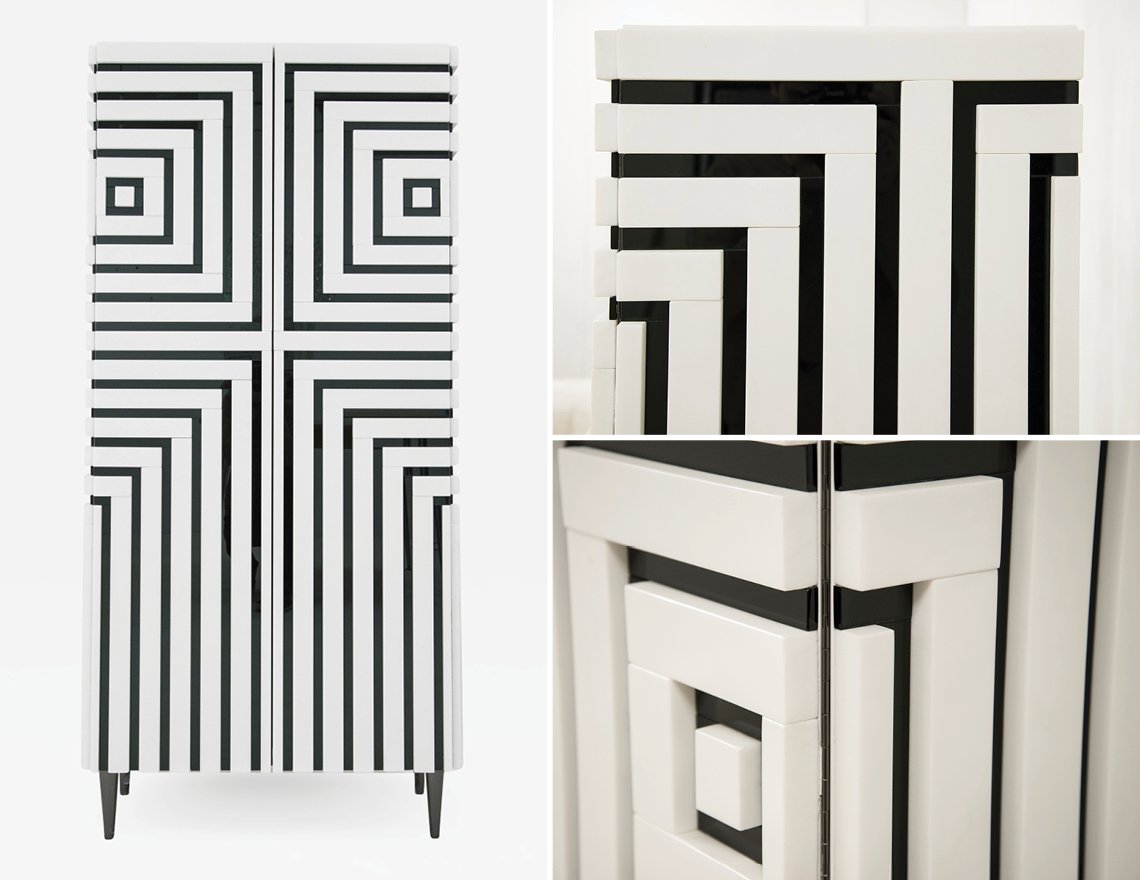 At Maison Rapin, Roberto Rida's cabinet "Bonifacio," 2017, signed 'R.G. Rida' at the back. Wooden structure covered with a mesmerizing Op Art design in opal glass and tinted glass, patinated brass details.

Twenty First Gallery has a large black sculptural table made of leaves and other flora encased in resin by Marcin Rusak, one of the most talented designers working today, alongside cerebral, beautiful works by Nicolas Aubagnac, Beatrice Serre and many others. Nearby, Maison Rapin is presenting a serenely elegant booth — a collection of mirrors, lamps, tables and cabinets in black and white colors. Roberto Rida, Kam Tin, Ado Chale and Robert Goossens are among the designers represented.
| | |
| --- | --- |
| | |
| | Moderne Gallery |
| | |
Portuondo has similarly curated a striking booth of design and art exclusively using black and white, including an adorable demi-lune cabinet by Fornasetti. Another fabulous cabinet, though from an entirely different period, can be found at Galerie Negropontes, which is showing Herve Langlais's elegant credenza, in an edition of 8, from 2020 with a curved structure covered in rosewood veneer.
While truly fine vintage pieces are becoming increasingly rare, contemporary design is exploding in a creative renaissance, and the works of contemporary collectible design at Salon are remarkable in scope and execution. Some booths, like that of Todd Merrill STUDIO, are entirely contemporary in orientation and freely mix together contemporary art, sculpture and design. But standout vintage pieces are also well represented, and notable examples include a bookshelf/wall unit from 1945 by Gio Ponti at Karl Kemp Antiques, several fabulous Nakashima pieces at Moderne Gallery as well as Converso, where they also have a faceted Paul Evans console from circa 1970.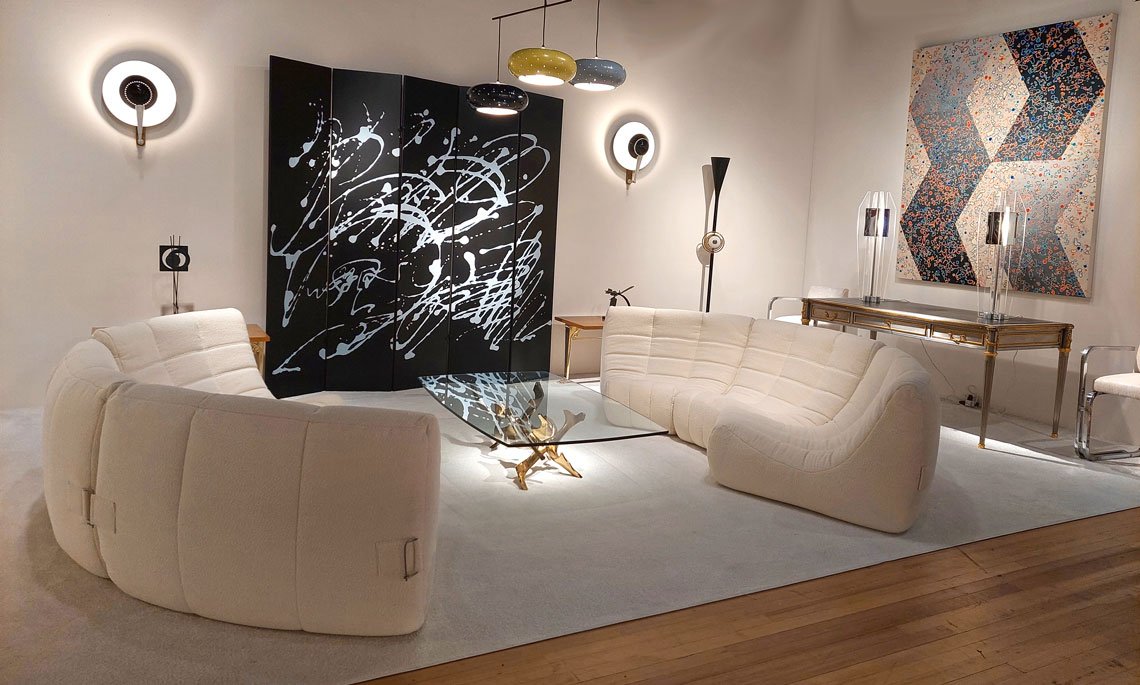 Portuondo



Left: Piero Fornasetti (1913-1988), Palladiana Commode, ca. 1958. Transfer printed and painted wood, brass. Concave three drawer commode with brass pulls and feet. Interior of top drawer with plastic roundel impressed logo and 'FORNASETTI/MILANO'. Right: T.H. Robsjohn-Gibbings (1905-1976), Rare pair of tables, ca. 1965, Model 'Trapeza', edited by Saridis, Athens. Walnut top with three bronze legs and stretchers. The legs executed in a design of a reeded plaster terminating in a lions paw. Re-creation of a Greek table from a kylix of the 5th century B.C. Tables of this type are often depicted alongside couches for dining and the advantage of the three legs is in it's stability on an uneven floor.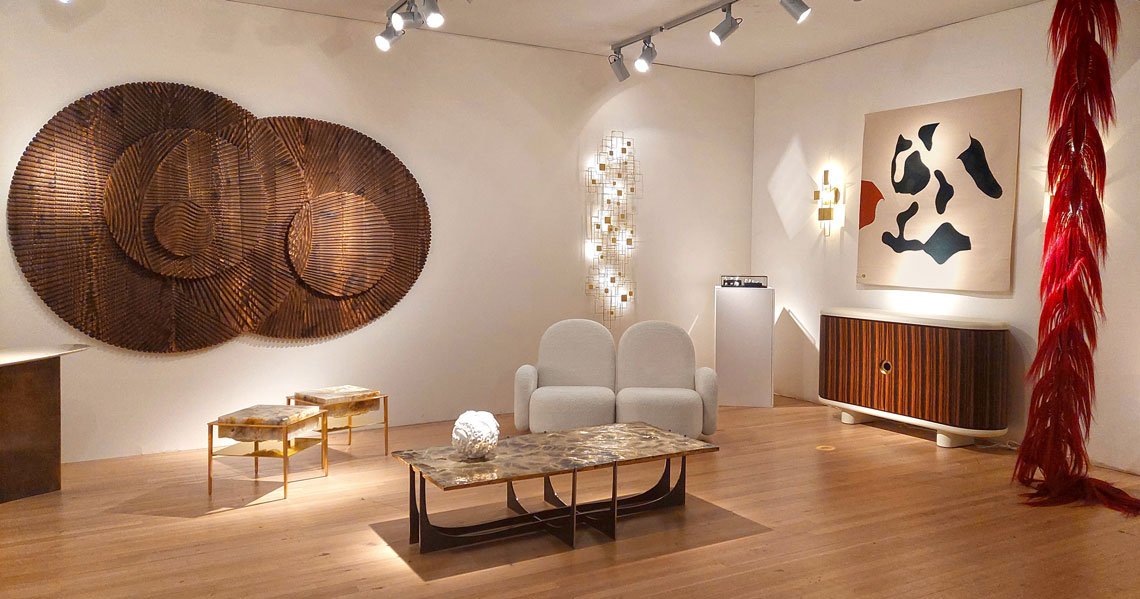 Galerie Negropontes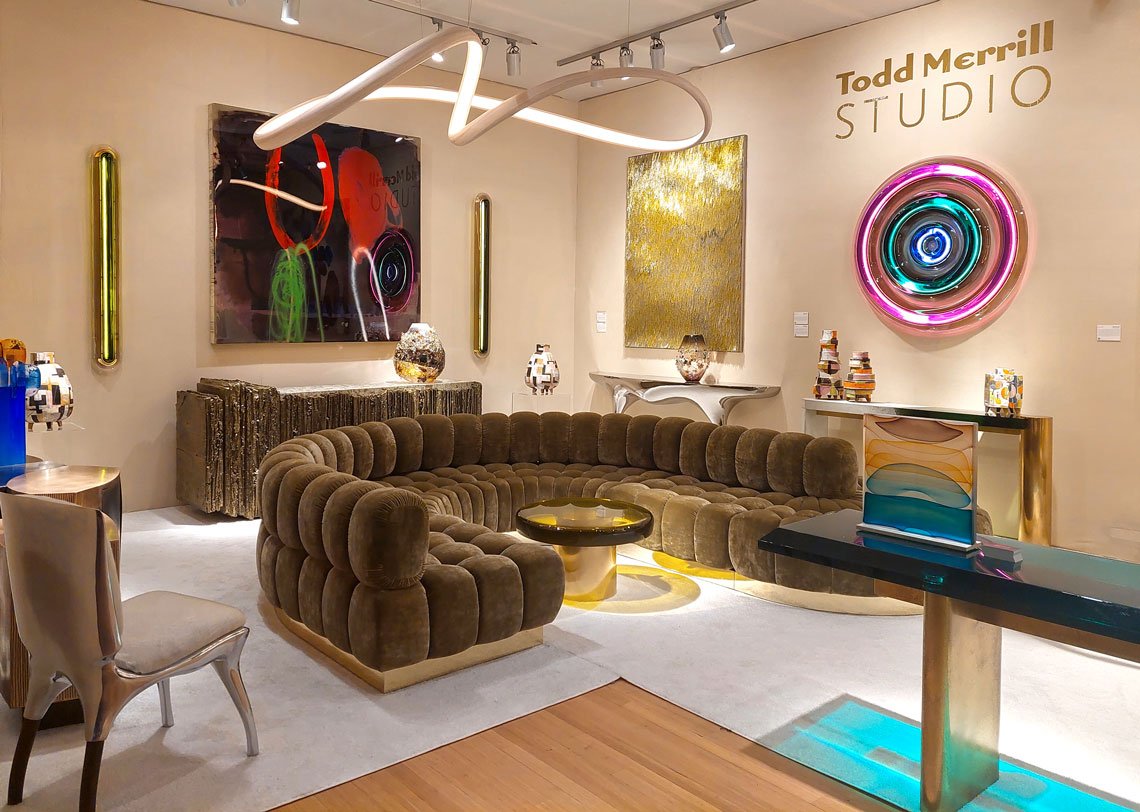 Todd Merrill STUDIO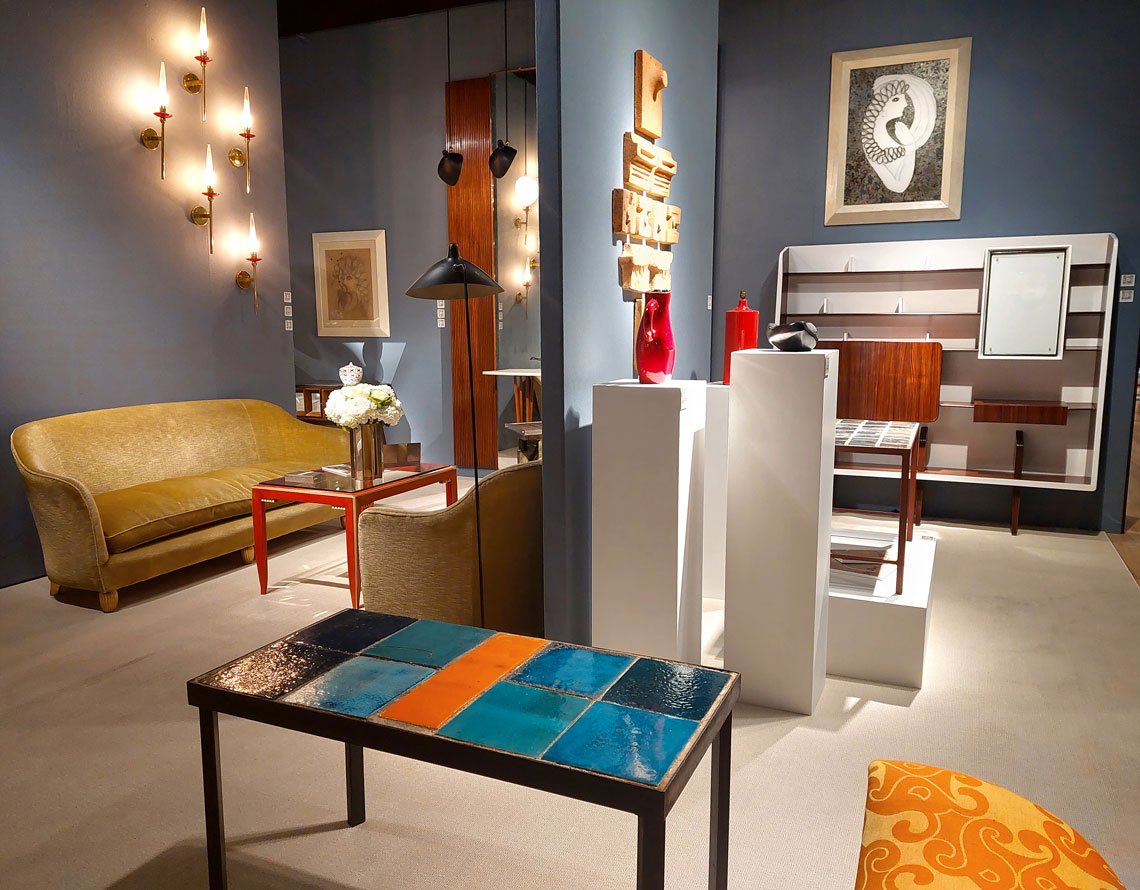 Karl Kemp Antiques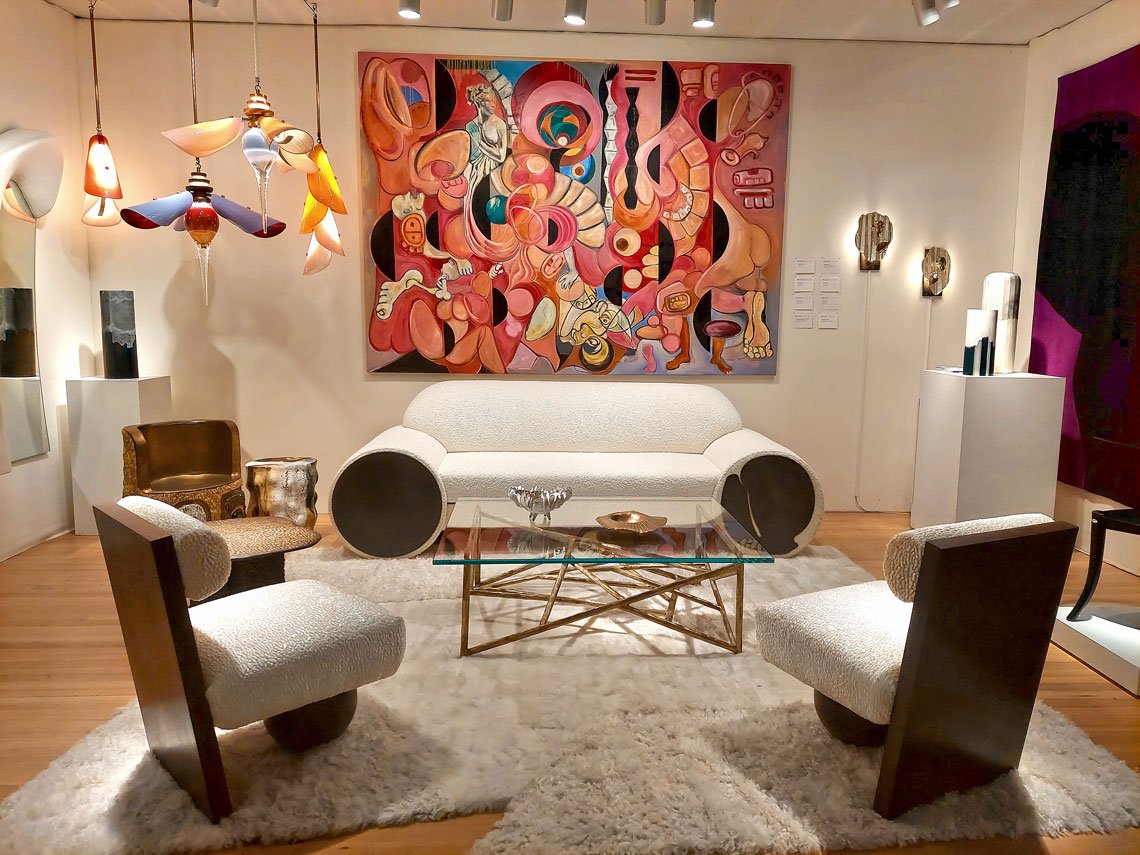 Wexler Gallery
| | |
| --- | --- |
| | |
| Tambaran | |
Boccara Gallery New York specializes in extraordinary tapestries - historic, vintage and contemporary, and is showing several rare tapestries by Alexander Calder, Wassily Kandinsky, Sonia Delaunay and other famous modern artists. They stand out for their astonishing quality and beauty as well as being completely different from nearly everything else on display. The gallery has paired them cleverly with sculptural furniture by Jean-Yves Lanvin, a brilliant designer whose covetable objects range from sculptural and shimmering mirror-polished cast brass coffee tables to creations in rock crystal.
Tambaran and Throckmorton Fine Art have memorable historical works of art, including, at Throckmorton, late Neolithic period jade disks from the Liangzhu culture in China alongside photographs by Graciela Iturbide, Malick Sidibe as well as others. Mixing of contemporary and historical material is increasingly prevalent at the art and design fairs, mirroring the prevailing aesthetic in interior design.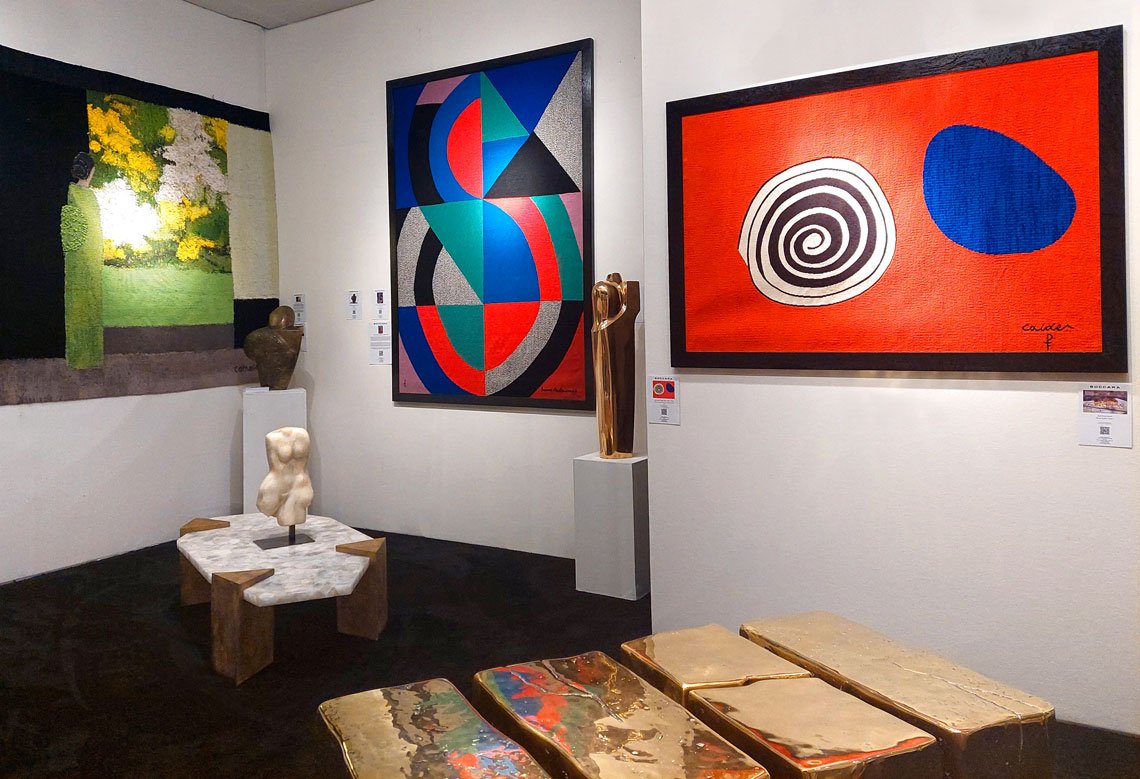 Boccara Gallery New York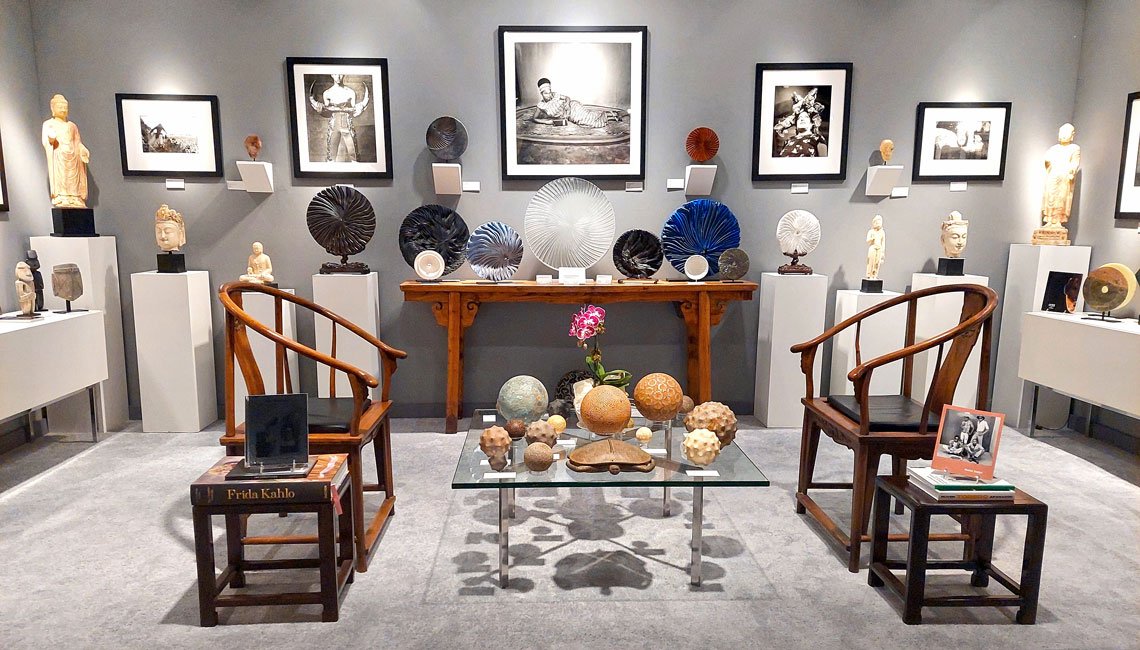 Throckmorton Fine Art
Among the new dealers at Salon this year are Le LAB from Cairo, Egypt, presenting a collection of alabaster objects, along with Klove Studio, based in New Delhi, a duo of makers, Prateek Jain and Gautam Seth, who create totem-like sculpture for walls, enormous, luminous objects made of precious metals and gemstones.