Jeff Lincoln on the Virtues of Individual Style and Comfort in Interior Design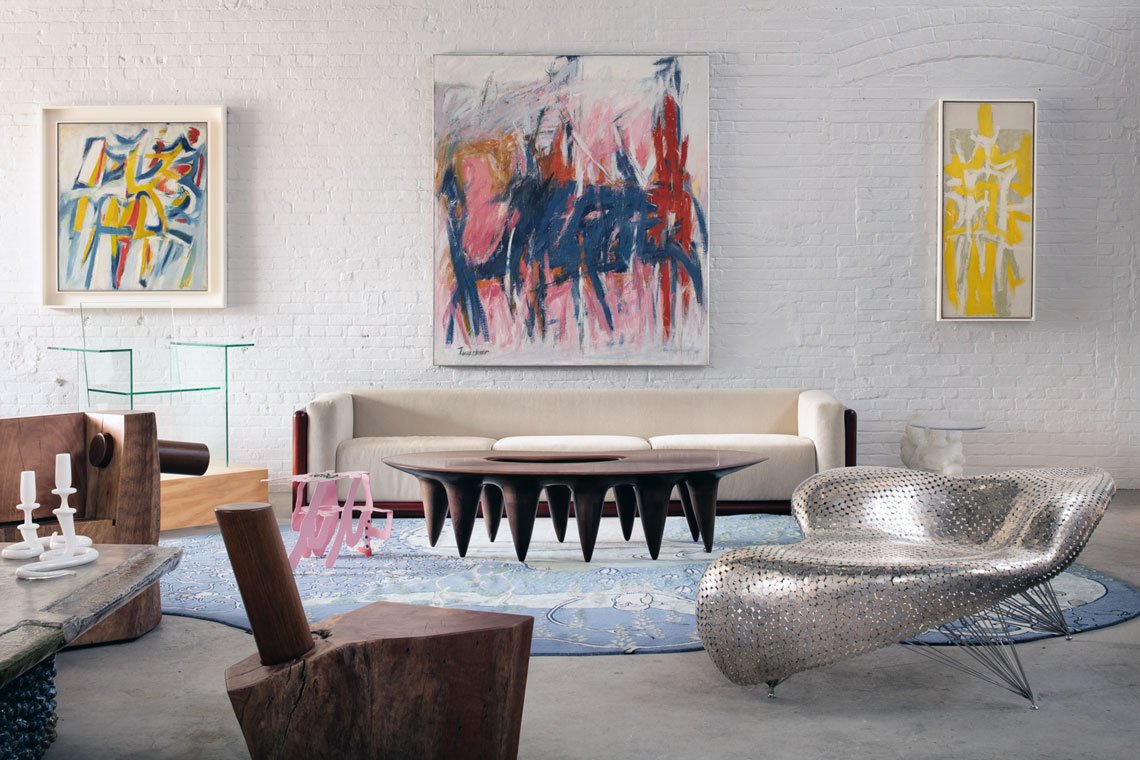 Art in the context of design. A gallery installation view from last summer's exhibition The Radical Mark, Jack Tworkov and the Advent of Abstract Expressionism. In dialogue with the paintings: Shiro Kuramata Glass Chair, 1976; Serban Ionescu, Zaag sculptural side table, 2019, in pink powder-coated steel; Carlo Scarpa 1970s Cornaro sofa; an exceptionally rare rosewood Wanderer coffee table by Wendell Castle; Brutal Matter molten glass side table by John Pomp, Johnny Swing's Manta (Ray), a Unique seat in the Septem Maria (Seven Seas), made from welded nickels and stainless steel. In the foreground, hand-carved sculptural lounge chair by contemporary Brazilian designer Zanini de Zanine Caldas. And anchoring the scene, Paradise, an asymmetrical rug in wool and silk by LA artist David Wiseman. All gallery photos courtesy Jeff Lincoln Art + Design

Jeff Lincoln on the Virtues of Individual Style and Comfort in Interior Design
By Benjamin Genocchio






Jeff Lincoln and friends

photo: Shawna Christensen
Jeff Lincoln is a busy man, managing multiple interior design projects at any one time. He is stylish and selective, with a passion for and deep knowledge of art and design from all eras, historical to contemporary. Benjamin Genocchio sat down with him to discuss his interior design philosophy.
Are there principles of design you bring to each project?
Absolutely. The general principle is first and foremost that the spaces work for the client. Things can't be designed to be just presented in a magazine, they have to work for a client, firstly, and be aesthetically pleasing second, but over and above that, the overriding principle is comfort — people have to be comfortable in their home, in any space, really. Comfort also has two aspects, it has to be comfortable physically, but also psychically. It doesn't matter how fabulous the designer or the design is, it has to sit comfortably in a client's mind as well as their day-to-day use of space. To me, if a client feels well connected to the space and the design, they own it as their own, then I've done my job. I want to create something compelling, sure, but it still has to be created in the context of a service business and in knowing this is not my home.
"I am looking to reinvent the wheel each time for each client"
What about a story or narrative, does that figure in your approach to interiors?
Yes, certainly, and once I begin the process of developing an interior concept with a client, the other overriding decision is having a narrative. This means that things are selected for a reason, that there is a through line in why things are put together the way they are. I'm looking for things to quietly dialogue with each other. That there is a light narrative that runs through a project I think is a necessary thing but that is not the same as a theme. I never want to be thematic, but I want a light narrative that runs through the project, that you experience gradually, subliminally as you engage the space; not some grand gesture that hits you over the head as you walk in.
Not too many people know that you began your career as a journalist — is that right?
Yes indeed! I have a master's in journalism from Columbia University, worked at The Nation and three years at The Wall Street Journal.
In his Southampton gallery, Jeff Lincoln shows us how it's done: Art + Design. A monumental Vine illuminated vertical sculpture by master glass artist Jeff Zimmerman twines through the air, adding architectural interest to the space above the gallery floor. Perched on a display platform, a trio of Hun Chung Lee's Island ceramic stools, with a turquoise and brown glazed Long Bench just behind. At right rear, an exceptionally rare rosewood Wanderer table by American Studio Craft Movement legend Wendell "Why can't furniture be art?" Castle. A pair of Hex stools by The Haas Brothers flank an amorphous coffee table made of gypsum, a unique piece by Rogan Gregory.

Did your background in journalism help in any way your design practice?
Not directly, but I certainly learnt some valuable lessons that were applicable. When I was a young journalist I did a piece on Henry Kissinger that was critical and I was invited on a radio show where people called in, often for negative reasons, and they were asking me all sorts of questions. I realized then that as a journalist I needed to know everything on the subject to be able to answer questions and not be put on my heels. As a journalist you better know everything about your subject. If you don't know the most then how can anyone trust what you write? It's the same in interior design. You have to know the most about your subject. You need to be properly prepared and know everything about your business. Clients are paying you to know more than them and if they know more than you then they don't need you.
Who are some of the clients you've worked with?
I would prefer not to mention individual private clients, out of courtesy, but obviously I have worked with a great many clients across the United States and in Europe. I do a lot of work in Telluride, on private homes, and of course Manhattan, Palm Beach and the Hamptons where I have a very strong clientele. I typically do primary residences but I often do repeat clients and I'm on to 3rd, 4th, and 5th projects with many of my clients. It's also no secret that I have been working for close to 20 years now on the refurbishment of the Otesaga Hotel, on Lake Otsego in Cooperstown. The place is so large it constantly requires attention. I am in charge of designing all the public spaces — the client is an Anglophile who loves classic English decorating, and I enjoy doing an old-school classic English interior scheme.
In his gallery located in a former 19th century power station, Jeff Lincoln weaves together expressions of organic form in ceramic, naturally derived terrazzo, brass and wood. Clockwise from left: South Korean ceramic artist Hun Chung Lee's 3-legged stool with painterly glazing evokes visions of toadstools; sculpted wood chair by Jose Zanine Caldas, Brazil, circa 1970; illuminated Fertility Form sculpture in naturally derived terrazzo by Rogan Gregory; Haas Brothers Hex stool, covered in brass hexagonal tiles with zoomorphic form legs; and at center, a rare massive 1960 Vinhatico cross section coffee table by Brazilian Modernist great Joaquim Tenreiro; topped by a unique sculptural object in maple, granite, alabaster and gypsum by Rogan Gregory.

How do you choose what goes into your interiors?
I am looking to reinvent the wheel each time for each client. I try to tailor a project and the furnishings to each client. I try to avoid repetition. I start fresh with each client and try to find new things. I also try to obfuscate where things come from — I can look at any magazine article and know where the objects came from, which shop, or which floor and in which building. The last thing I want people to do is to walk into one of my interiors and say 'I saw that coffee table at such and such.' I want an interior that another designer would walk into and wonder where things came from. I want a design that can't be replicated by anyone else.
What do you see as important trends in interior design?
The most important trend in interior design is the rise of the maker movement, and at the same time the rise of collectible design. The increase in resources for designers as well as clients has also given us all so many more choices. Today anyone can get access to all these unique things and that allows a different type of decorating — I can put together an interior for a client that can't be replicated because I'm not using components from showrooms that are produced en masse.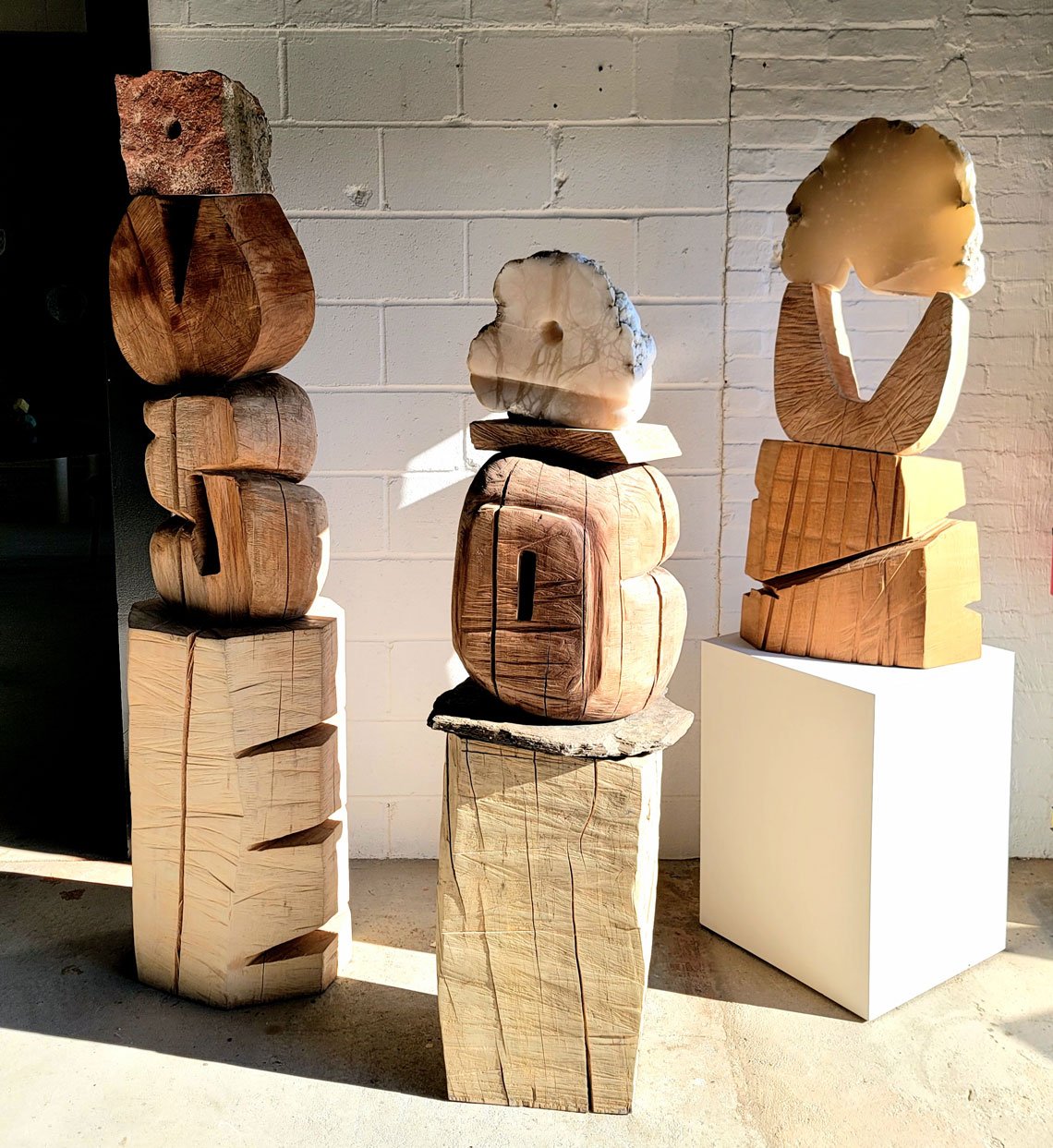 A sunlit moment at the gallery with Nadia Yaron's stacked landscape sculptures in wood and stone, abstract and totemic symbols of land, mountains, clouds and sky portals.

Tell me about the gallery in Southampton and what function it serves for you?
The gallery's core mission and premise is to show artwork in the context of important historical furniture, design and new collectible design. That was my core idea when I opened the gallery in 2016, and still is. Things are loosely arranged in vignettes to show how you can live with design and contemporary art. On display now are various Jeff Zimmerman lights, two sofas in the main room by Oscar Niemeyer, a Jorge Zalszupin dining table as well as some Peter Lane planters and a Wendell Castle coffee table. I have been fascinated with ceramics since the inception of the gallery, and so always exhibit various pieces by contemporary and historical makers, including tables and lamps by Will Coggin, a ceramicist based in Bushwick.
What are you working on now?
I am working on a large townhouse on West 10th Street in Manhattan, I'm working on an oceanfront residence in Martha's Vineyard, I'm working on a new construction house in Jupiter and I'm working on a cattle ranch west of Vero Beach — for this last project I am doing a 'cracker house', a one-story house with a porch on all 4 sides and for which I am using historical pieces from the gallery by Charlotte Perriand and others but also commissioning a lot of pieces from Green River Project, a hot design duo with an art world background based in Brooklyn that do furniture and interiors. They work a lot in wood, and seek to convey a simplicity and honesty of materials in their work which I admire.
Tell us about some of the inventory at the gallery right now?
There is a monumental Jeff Zimmerman chandelier that is a brand new creation. There is no question he is one of the most talented glass blowers at work today, though this piece is so large that the circular globes can be ordered in acrylic or glass. It is one of the largest pieces he has ever made of his iconic Vine design. Then there is Wendell Castle from 2008, a rare rosewood version of his Wanderer coffee table. I am also thrilled to have new works by Will Coggin, a Brooklyn ceramicist — his lamps and side tables are in new glaze finishes that the artist has been developing.