The 2023 Kips Bay Palm Beach Decorator Showhouse is Perfectly Palm Beach
Classic Palm Beach Glam Catches a New Wave of Talents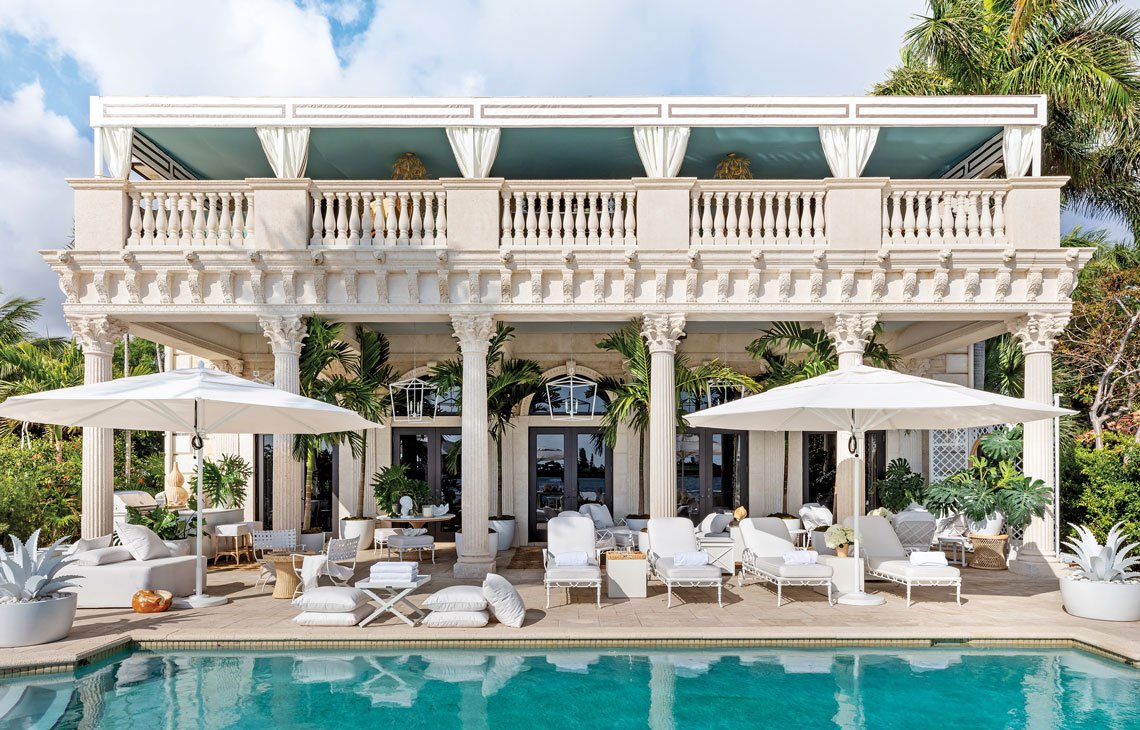 Choosing to yield the color palette to Mother Nature, designer Billy Ceglia's "Le Palmier Blanc" loggia was a crisp and cool white-on-white dream, with clean lines that contrasted wonderfully with the elaborate architectural details of the exterior. Brown Jordan's bamboo-patterned "Calcutta" chaise lounges, lounge chairs and ottomans (available at the New York Design Center) made up the sun-worshipping stations, conversation groups, dining areas, and cocktail-sipping corners that were sprinkled across the shaded loggia and poolside deck, which was bracketed by a pair of witty white powder-coated tole agave plants.
Classic Palm Beach Glam Catches a New Wave of Talents
Photography by Nickolas Sargent
A sure and certain herald of spring and the rejuvenating return of warmth and light, the 2023 Kips Bay Palm Beach Decorator Showhouse interiors were a kaleidoscope of glamour, by turns vivid and sparkling, moody and seductive, or serenely classic. The 21 interior designers and architects transformed a 9,000-square-foot Mediterranean-style waterfront villa in West Palm Beach into a lush showcase for their unique version of Palm Beach perfection. All the cherished tropical design elements were in attendance: rattan and wicker, treillage, sherbet hues and crisp whites, renewed with an emphasis on informality and relaxed, loungey comfort.
The Kips Bay Decorator Showhouses, with editions in Dallas, Palm Beach and New York City, are the nation's premier design events, and an invitation to participate confers a marked level of esteem and a substantial boost to an interior designer's career. Weeks of frenzied activity, scores of late nights, and near-constant pivoting and problem-solving culminated in the breathtaking rooms we see here.
The Showhouses benefit the Kips Bay Boys & Girls Club in the Bronx, New York, and local Boys & Girls Clubs in Dallas and Palm Beach. Proceeds provide critical funding for afterschool and enrichment programs that provide guidance for young people to reach their full potential. The New York Design Center is a proud sponsor of the Kips Bay Decorator Showhouses, and NYDC President and CEO James Druckman serves as a staunch supporter of the charity in his position as President of the Board of Kips Bay Boys and Girls Club.



A dramatic and gracious entry space is critical to establishing a mood of anticipation for visitors, and this one by Dallas-based Studio Thomas James was more than memorable. Patinaed limestone-clad entry spaces were transformed by designer Philip Thomas Vanderford to pay homage to seductive old-world Sicilian style as depicted in the HBO series The White Lotus. In a distinct departure from Palm Beach pastel design schemes, a rich and moody color palette was chosen. With little room for furniture, color, texture and finishes became all-important. Black wave-edge runners ran the length of the hallways, embellished at the entrance with a witty rattan alligator rug. Walls were lined with plush burgundy velvet drapery, ceilings adorned with a hand-painted custom wallcovering, burgundy painted beams and moldings, and alabaster and smokey Murano glass chandeliers. The portentous Testa di Moro in the series was, however, replaced by a lovely 19th-century carved marble bust.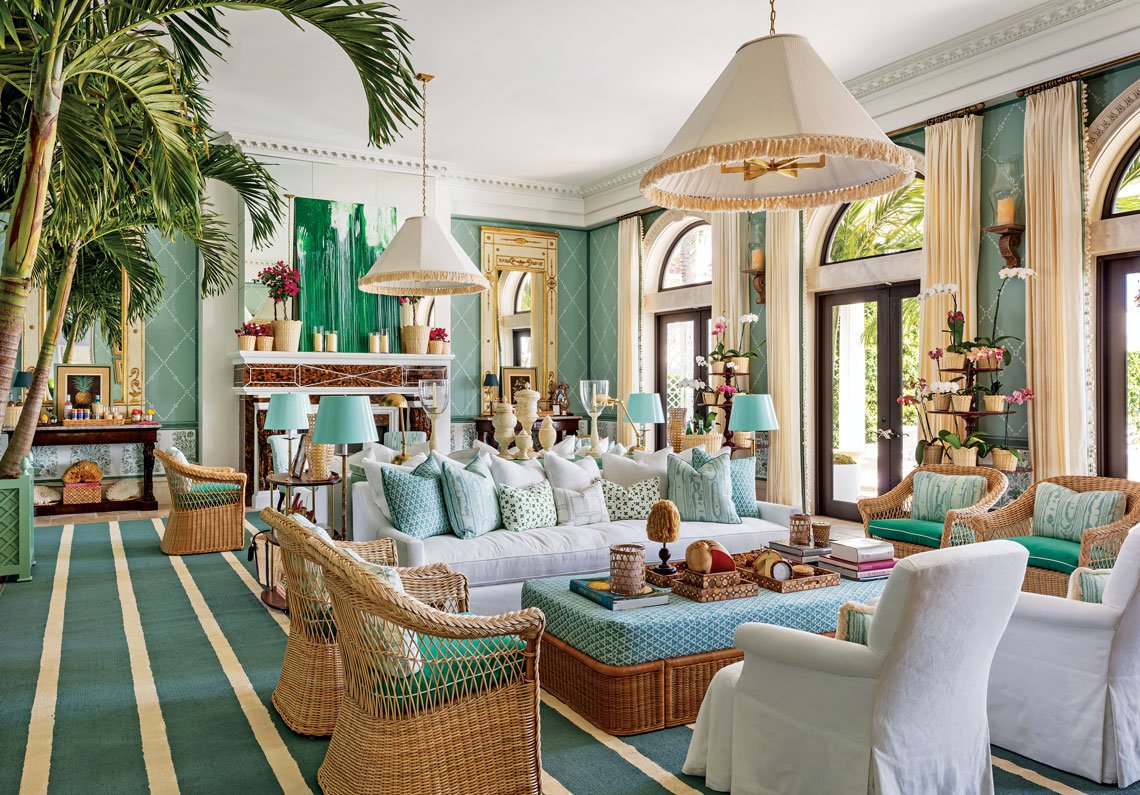 Amanda Lindroth took inspiration for her Great Room design scheme from the Winter Loggia of the Villa Brandolini in Italy, which is similarly appointed with giant palm trees, wicker and antiques. The fireplace at the far end of the room, which Amanda described as "a bit of an eyesore" was transformed with a faux tortoiseshell finish and so delighted the designer that she proclaimed it "the highlight of the room." Flanking the fireplace are a pair of Italian 18th-century Louis XVI painted and glided trumeau mirrors, placed over English 19th-century Regency flamed mahogany console tables with original Lido Classico marble tops. By the arch-window capped doors, a pair of turn-of-the-century Rouge Antique de Grèce marble tiered tables hold a profusion of potted orchids. Watercolor shades of blue and blue-green, brass bamboo floor lamps, and wicker and rattan (everywhere!) made for a relaxed tropical ambiance.
Scott Sanders' "The Palm Beach Story" family room was kickstarted by expansive waterfront views and the natural light streaming into the soaring 12' tall space. With those elements in mind, it wasn't a stretch to choose an assortment of blue hues to bring an indoor/outdoor ambiance to the room. Further inspiration came via a geometric print fabric from Pierre Frey that references the Viennese Secession movement with a lively pattern of swirling scrolls. Low-slung vintage 1940s rattan pretzel lounge chairs received cushions covered in the pattern; the same fabric was used for a set of vintage bamboo dining chairs surrounding the game table, which were serendipitous finds from an old Miami hotel. Walls were covered in a blue Phillip Jeffries grasscloth, and Scott designed a custom rug with bands of "oars" to pull visitors into the room. Karl Springer side tables, a cobalt blue Lucite bar, and chrome frame Chinese Chippendale armchairs accented the room, along with a capacious custom bookcase styled with colorful accessories and fitted with a built-in television playing — what else — "The Palm Beach Story."
Natural textures and materials prevailed in The Coco Lounge by interior designer and Palm Beach resident Danielle Rollins. The neutral-toned space was inspired by Angelo Donghia, design colossus and licensing king of the 1970s and 1980s, whose star-studded client list ranged from Ralph Lauren and Mary Tyler Moore to Diana Ross and Barbara Walters. Woven wicker "Block Island" club chairs are from John Hutton for Donghia, and a rush and mahogany armoire by Donghia was customized by Ms. Rollins into a mirror-backed, fully appointed "barmoire." A massive shell-decorated mirror by Florida artist Stephanie Ferguson was framed by black and white floral prints by Renée Bouchon. Other pieces included a pair of Billy Baldwin slipper chairs and a vintage coconut shell console by Enrique Garcel.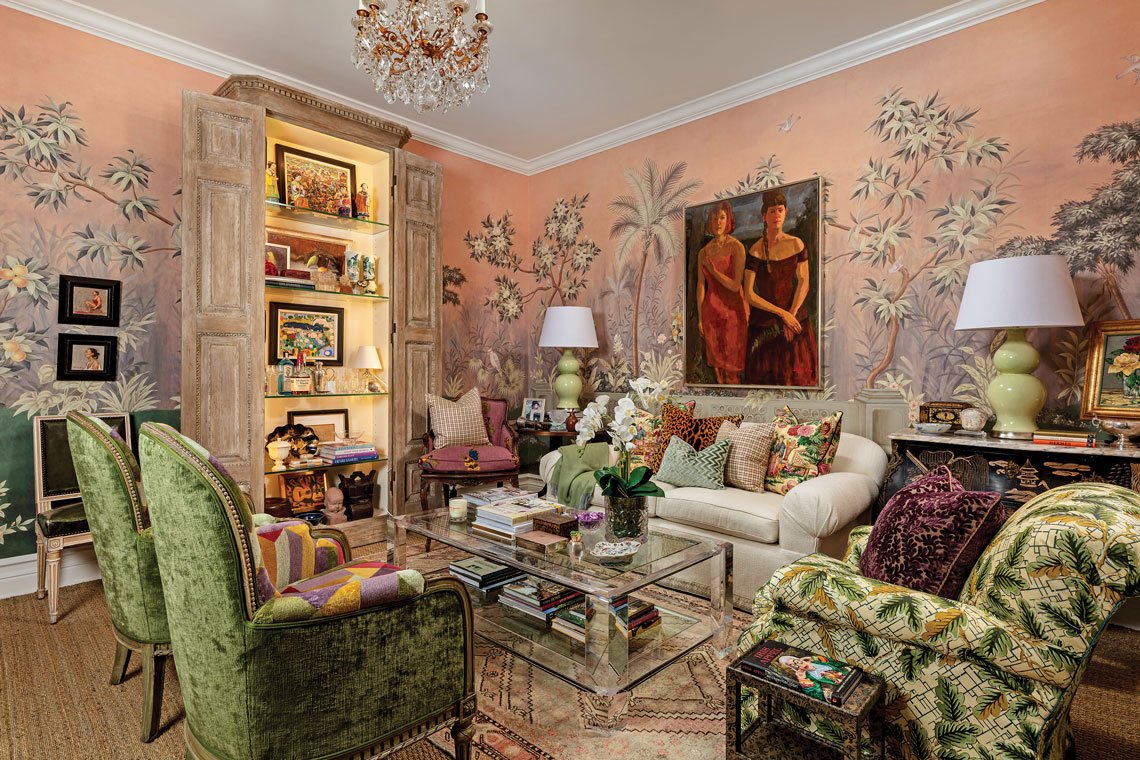 Stephen Mooney's maximalist jewel-box study paid homage to the classic Palm Beach pink-and-green color scheme with wallpaper in soft tones of the archetypal combination. Antiques, including a marble-topped chinoiserie console and a French fruitwood chair, sit upon a sisal carpet topped with a vintage rose and pistachio-colored Khotan rug, and an antique crystal chandelier adds effusive sparkle. The chunky Lucite coffee table was chosen to add substantial form without weighty heft. A cerused oak cabinet's shelves burst with layers of accessories, artwork and travel souvenirs, creating vibrant mosaics of color and shape.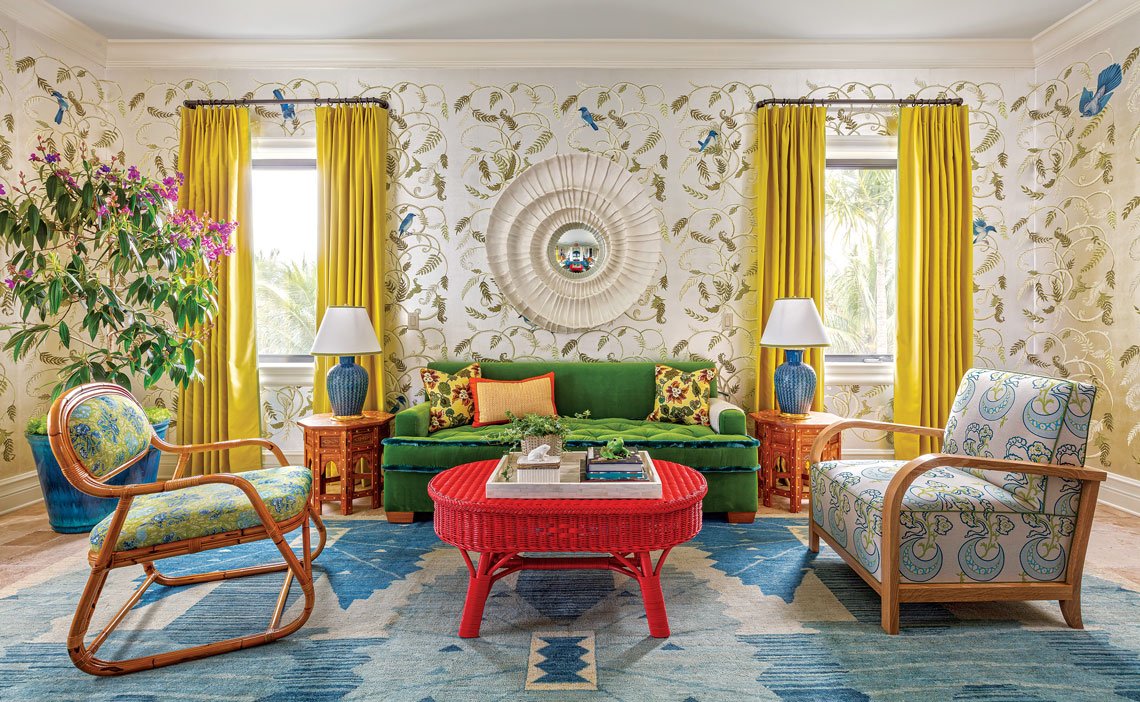 Katie Ridder's "Garden Bedroom" illustrates her extraordinary dexterity with intensely saturated tones. "Blues and greens were the natural choices of colors," said the designer, who created a palette that balanced both the exuberance and serenity of the natural world. Demure de Gourney wallpaper based on a 1920s fabric pattern by British decorator Syrie Maugham backdropped the room, with twining palm fronds customized by the addition of native Floridian blue scrub jays. It's always sunny in Palm Beach, and citron-hued curtains added a piquant punch to the sunlight streaming in, echoed by chrome yellow table lamps by Christopher Spitzmiller. The vibrant seating area featured Stephen Antonson's whirling plaster Calliope mirror, along with a scarlet rattan coffee table, vintage inlaid octagonal Moroccan tables and a pair of mismatched but similarly expansive lounge chairs, a bentwood rattan piece and a modernist-style lounge chair.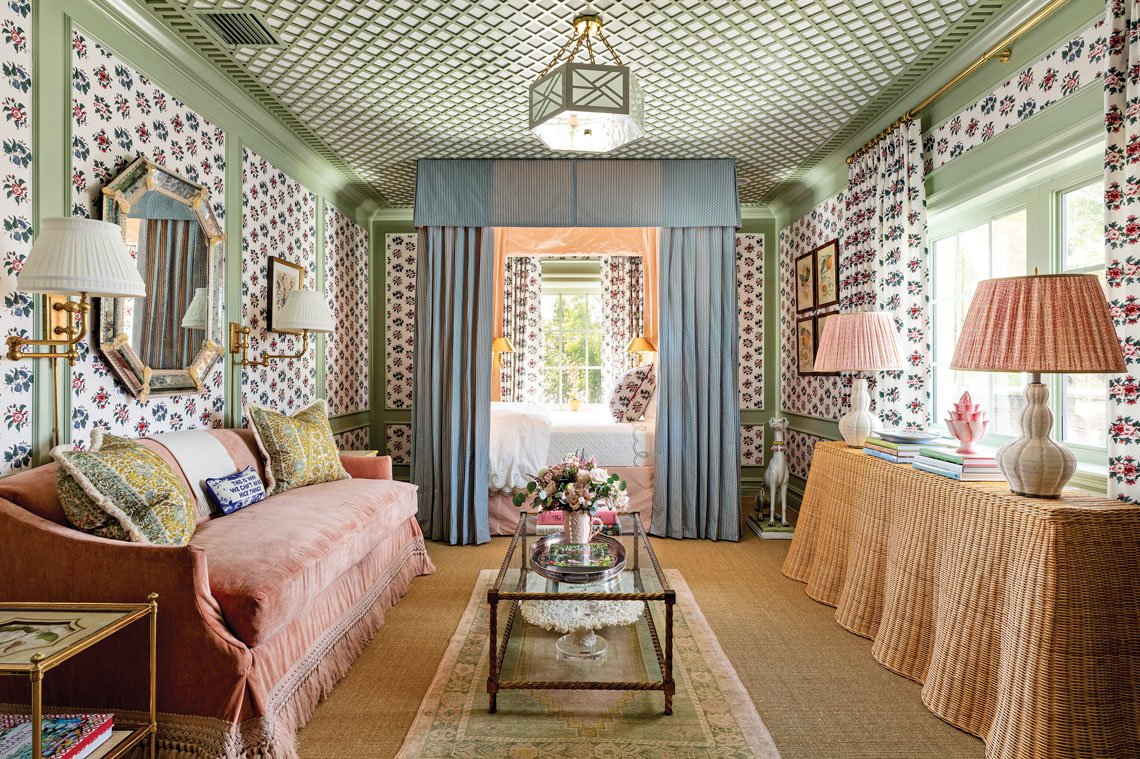 A latticework ceiling and floral-sprigged wallpaper brought garden style to a bedroom sitting area by Amy Studebaker Design, populated with Soane Britain's handwoven rattan Ripple console, a vintage rope-twist gilded iron coffee table, and an etched antique Venetian mirror along with antique botanical and bird prints. A few classic Palm Beach touches included a sisal rug and a soft pink and green color scheme, but the true inspiration for the room, the designer revealed, was a romantic garden setting circa the 19th century, which this achieved with great charm.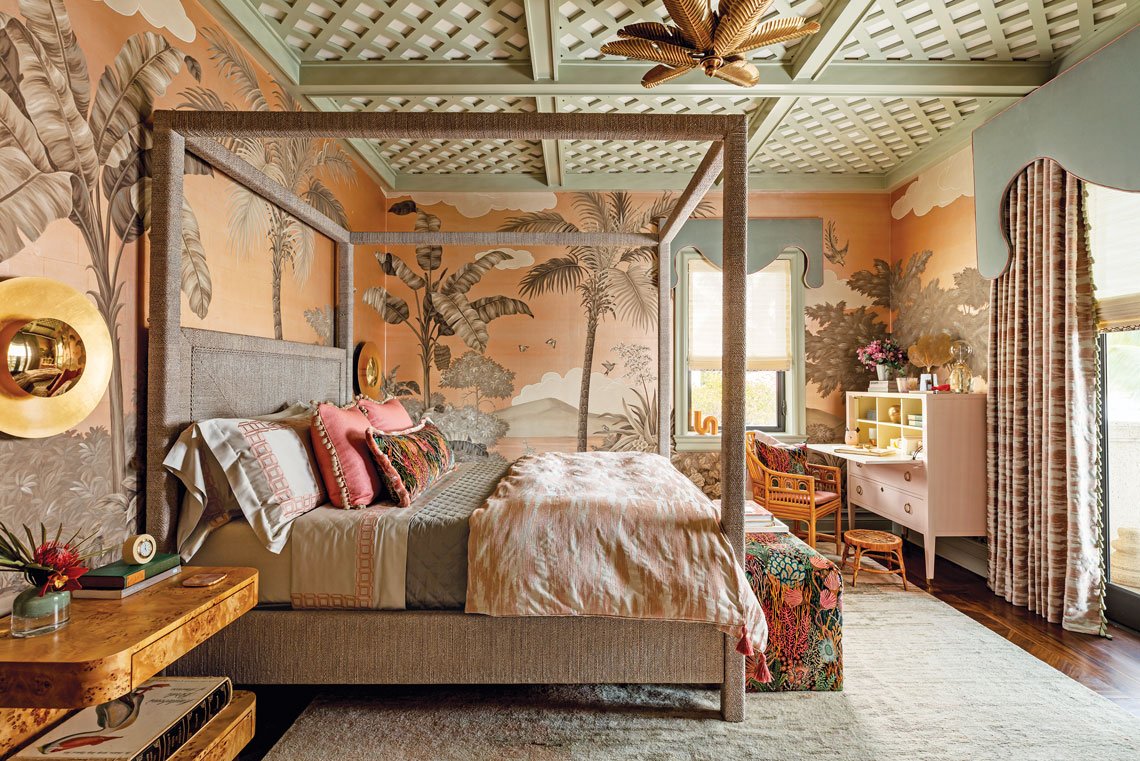 Mabley Handler wrapped their guest bedroom in a lush and romantic custom scenic mural by Gracie. A metallic melon ground with matte pewter, soft green and cream palms, plants, birds and fluffy clouds captured the perfect sunset moment when the serene beauty of nature is at its peak. A coffered treillage ceiling and wave-like pelmets added layers of architectural interest, and a mix of vintage rattan furnishings and contemporary silhouettes introduced traditional Palm Beach style to contemporary design.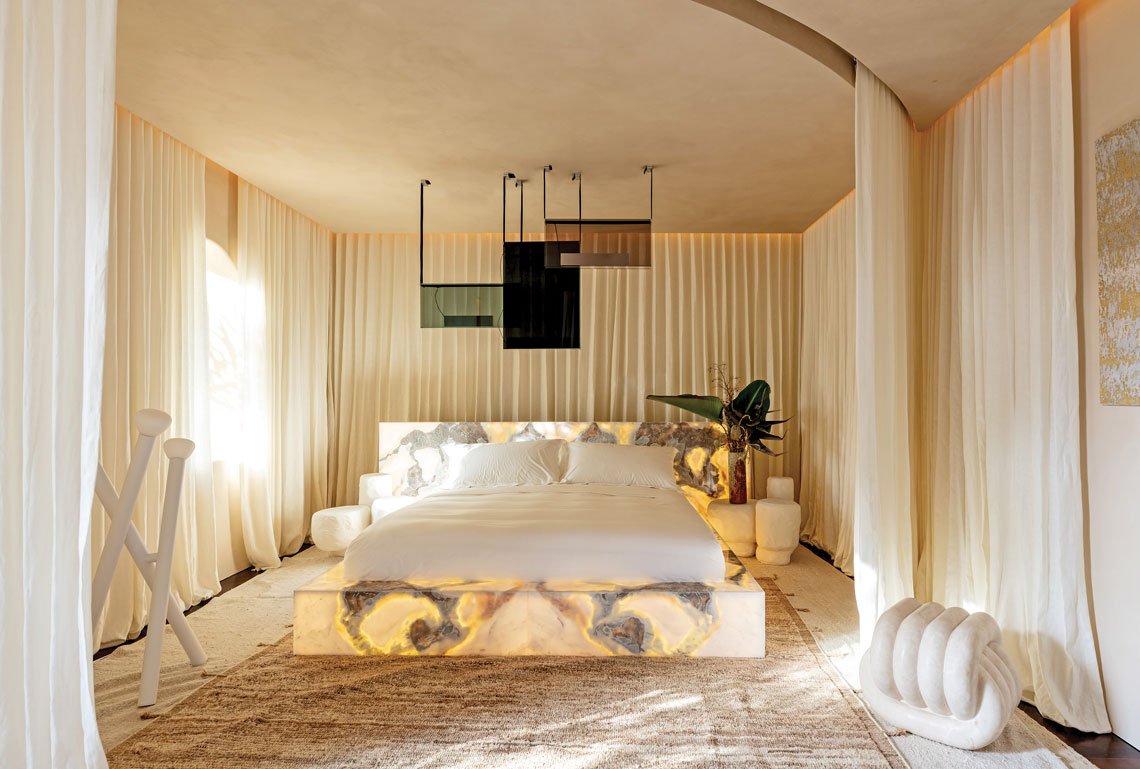 Designer Megan Grehl distilled the coastal living aesthetic down to spare and abstracted elements of light and form for her showstopper bedroom. A cocoon of rippling linen curtains channeled the movement of waves, with layered white and tawny rugs employed to evoke sand. The bed floated adrift in a spectacular marble frame backlit with LEDs; the patterns in the marble brought to mind the rhythmic ebb and flow of the surf. Softly sculpted pieces from Kelly Wearstler's Nudo collection for Arca dialog with the furniture forms, highlighting the purity of the design. The custom light fixture is from Montreal lighting studio Lambert & Fils.
ANNOUNCING THE RETURN OF KIPS BAY
DECORATOR SHOW HOUSE, NEW YORK
May 11th through June 6th 2023
River Mansion, 337 Riverside Drive at 106th Street, New York, NY
After a three-year hiatus, the acclaimed Kips Bay Decorator Show House will return to New York City this spring for its 48th edition. The month-long event will be held at the historic River Mansion, a 1902 red brick and limestone mansarded Beaux Arts building designated a New York landmark in 1973.
This year's team of top talents are: Ahmad AbouZanat | PROJECT AZ, Clinton Smith Studio, Clive Lonstein Inc, David Scott Interiors, Design Studio 15, Fairfax Dorn Projects, Georgis & Mirgorodsky, Ghislaine Viñas, Halden Interiors, JayJeffers Inc., Janice Parker Landscape Architects, Lindsey Coral Harper Interior Design, Lillian Wu Studio, Mary McDonald Inc, Neal Beckstedt Studio, Penny Drue Baird | Dessins LLC, Sasha Bikoff Interior Design, Sawyer Berson, Sergio Mercado Design, Timothy Corrigan Inc, Wesley Moon Inc., and Yellow House Architects.