There's No Place Like Home: Renowned Hospitality Designer Lauren Rottet Finds New Joy in Residential Interiors
Rottet's latest project includes interiors for River Oaks, a 19-story high-rise residence located in Houston and originally built in the 1960s. It's now outfitted with amenities like an outdoor chef's kitchen, state-of-the-art fitness center, an intimate library with garden views and a dog-grooming spa. The lobby is a luxurious mix of contemporary art including a work by Paul Kremer with vintage pieces such as a Maison Jansen coffee table and Karpen of California Hollywood Regency chairs. Rottet's own Dichroic Tables are installed underneath a chandelier by lighting designer Lindsay Adelman. Photo by Jack Thompson
"My work revolves around manipulating spaces that feel open, energetic, entertaining and never boring," says Lauren Rottet about her contemporary approach to design. Rottet's explorations are influenced by the California "Light and Space" artists from the 1960's: Robert Irwin, Mary Corse, Doug Wheeler and James Turrell, whose work uses light, perception and surface materials to create the foundation for their subtle art form.
| | |
| --- | --- |
| | |
| | Lauren Rottet, Photo: Damian Miranda, courtesy Naftali Group |
Born in Waco, Texas, Lauren Rottet was destined to build. The family moved to Houston, where she fell in love with skyscrapers and the urban landscape. After studying architecture at the University of Texas in Austin, she headed to Chicago to work for the prestigious Skidmore, Owings and Merrill (SOM), relocating back to Texas, and then a move to California where Rottet launched an interiors practice in Los Angeles for SOM. That experience ultimately lead to opening DMJMRottet, an international interior design studio.
In 2008 Rottet launched her eponymous studio, with offices in Houston, Los Angeles and New York. For the last decade, the globetrotting interior architect's firm has become synonymous with hospitality, creating one-of-a-kind experiences where the design and ambiance are perfectly in sync with the locale and guest. New projects include the 152-room Texican Court by Valencia Group inspired by retro motor courts, and the re-imagined five-star Belmond Cap Juluca opening this winter in Anguilla.
In the last decade Rottet Studio has produced some of the world's most iconic hotel projects, including The Surrey, New York and the Loews Regency New York as well as new properties; the Pendry San Diego, Renaissance Atlanta Airport Gateway Hotel and the Alessandra in her hometown of Houston. "A hotel can be like theater because you're only staying in it a night or two," says Rottet about the process of creating a dramatic mise-en-scène.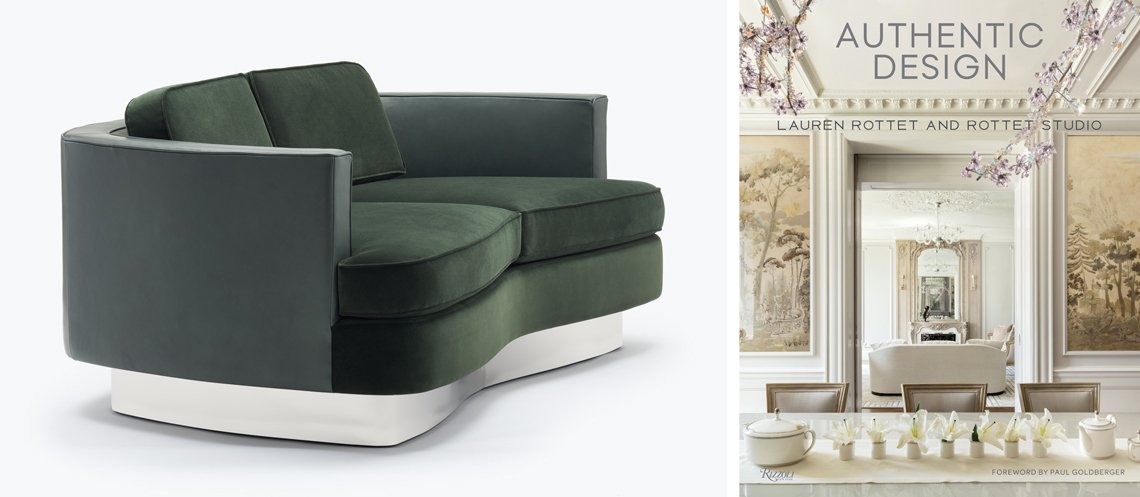 Left: Rottet's new furniture offerings incorporate her love of architecture and reflect her passion for creating spaces and objects that impart kinetic energy, visually enlivening each environment. They also showcase the designer's penchant for luxurious materials, including glossy acrylic, fur, leather, marble, metal, rattan and fine wood veneer including this Cubist Curved Love Seat, upholstered in green velvet. Photo by Christopher Barrett Right:
Authentic Design: Lauren Rottet and Rottet Studio
features the work of Lauren Rottet over the past fifteen years and includes the interiors of houses, apartments, hotels and offices in the wide range of styles at which Rottet Studio is adept, from elegant Modernism to Beaux-Arts classicism. ©
Authentic Design: Lauren Rottet and Rottet Studio
by Lauren Rottet, Rizzoli New York, 2017

Her award-winning furniture range, the Rottet Collection and latest monograph Authentic Design (Rizzoli) were on display this past April during the annual Salone del Mobile in Milan, while a new lighting collection for Visual Comfort will debut at High Point in the spring. "The hardest part is keeping the spontaneity while working through the engineering process. I'm most pleased when a product relies on lots of visual movement mixed with emotion," says Rottet about her process for creating furnishings for residential and commercial spaces.
"I used to be afraid of residential, now we've embraced it and we're really enjoying it," she says about her firm's focus on residential design. A ground-up project, the Stolle home in Houston is featured prominently in her book. "I'm actually finding it fascinating to explore how people live now, because it's a whole different set of building materials, and issues, so it can't be borrowed from the past. But, at the end of the day, people want to be comfortable. So, I think it's fun, exploring what is contemporary, but still human and appeals to our sense of warmth."
DISCOVER LAUREN ROTTET'S INCOLLECT FAVORITES



SONIA DELAUNAY

"Arc Vert," Signed Abstract Lithograph, 1972

Machine Age




HANS WEGNER

"Ox" Chair in White Mohair

JF Chen



CHARLES HOLLIS JONES

Lucite and Brass Coffee Table, Signed, ca. 1960s

Cain Modern




MAX INGRAND

Pair of "Dahlia" Fontana Arte Sconces

Fred Silberman
Role Model:

I'd have to say Andrée Putman.




Necessary extravagance:

Probably buying a really expensive vintage crystal item or glass, or silver. Things that I pull out once every ten years to serve with.




Secret vice:

Spaghetti and meatballs.




Hidden talent totally unrelated to design:

Paddleboard yoga.




Go-to color scheme:

I'm personally drawn to whites and silvers and grays. The dark bronzes that glow from warm lights are always included in the palette to add warmth.
Name an architect, artist or designer, living or dead, you'd love to collaborate with and why?
Charlotte Perriand and Le Corbusier while they were figuring out designs for their furniture. Their process was so ahead of their time. The twenties were when things were so contemporary. I think that would've been really fun to have watched Perriand go into Le Corbusier's office, interview and see how she manipulated and maneuvered the conversation.
Tell us something about you that is not in your bio
I think I am a compulsive designer. I draw all the time. I woke up this morning with a list of financial items that needed attention and what did I do? I designed a home for my son Kyle who is thinking of building a house.


Left: Lauren Rottet's favorite objects in her Montauk home are a pair of Franco Albini wicker chairs that she found at an antique shop in Sag Harbor, New York. Right: Lauren Rottet's Montauk home was originally designed by George Nelson and Gordon Chadwick in 1961. In 1989 a version of that same home was built to the original specifications (minus the breezeway) using the original contractor guided by Chadwick's existing drawings and plans. Rottet has preserved the interiors of this newer iteration while adding her own signature look that combines contemporary art and vintage furnishings including these acrylic chairs. Photos by Emily Gilbert

SHOP LAUREN'S INCOLLECT FAVORITES



CHARLES HOLLIS JONES

Pair of Barrel Back Chairs from the "O" Collection

Cain Modern




PIA MARIA RAEDER

'Sea Anemone' Mirror

Galerie BSL



GIO PONTI

Gio Ponti Custom Side Tables, ca. 1946

Donzella




ADOLF LOOS

1908 Pentagon-Dodekaeder Table Lamp

Woka Lamps Vienna
How do clients push you to think outside of the box and challenge you?
You know, sometimes they don't push and we have to push them. It's really exciting when one does. Usually you're just trying to bring them up to speed because they're uncomfortable with anything that goes beyond what they've seen previously. I've been working with a client who has an amazing art collection. He's very humble and in some ways he pushes me to be timeless in my choices, which isn't as much outside the box as it is leaping over the box. We're definitely doing things that are inventive. But as any great art collector does, he has a great eye. It's not so much that he's pushing me to be wild or inventive or crazy, it's just pushing me to edit properly.
What is your favorite object in your home, and how and when did you acquire it?
I love my Franco Albini wicker chairs. I found them at a little antique shop in Sag Harbor, and when the dealer saw that I liked the "good stuff," he took me to his warehouse which is in an old garage. He said, "most people wouldn't like these because they're not in great shape, they don't look perfect. But I've been holding onto these for years."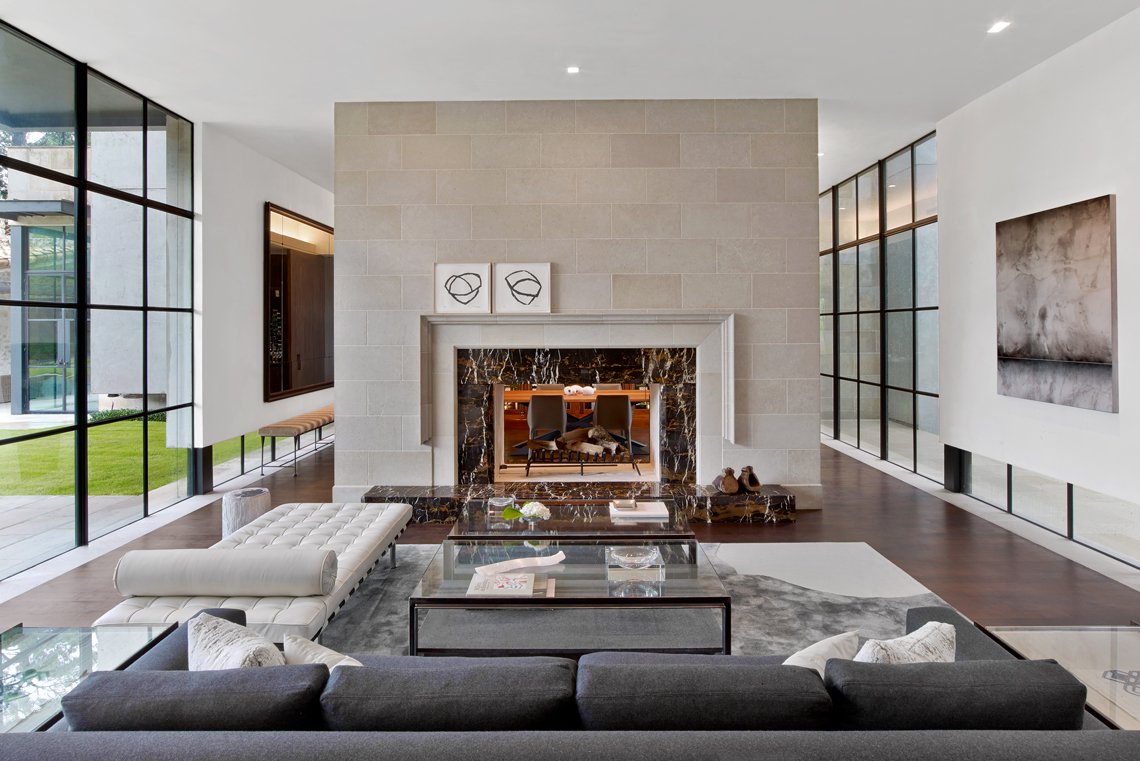 The Stolle house in Houston, which Rottet built from the ground up, is inspired by Mediterranean-style architecture that includes rich materials like stone, marble and floor-to-ceiling glass windows that look out on a pool and terrace. The living room is a modernist composition of iconic pieces like a white leather Mies van der Rohe Barcelona daybed juxtaposed with a hand-carved limestone table, upholstered sofa and custom steel-and-glass coffee tables. Photo by Eric Laignel
SHOP LAUREN'S INCOLLECT FAVORITES



PAUL EVANS

Cityscape Coffee Table

Gallery Anne Autegarden




VLADIMIR KAGAN

"Erica" Chaise Lounge for Weiman Preview Furniture

Danish Modern LA



KOLOMAN MOSER

Koloman (Kolo) Moser, 1904 Floege Wall Lamp

Woka Lamps Vienna




PAUL JENKINS

"Phenomena Bordering Orion" Watercolor on Paper, 1981

Appleton
How does a design project start for you? Is there a particular element that you always start with that inspires the whole project?
Sometimes I know the solution instantly, or I have a preconceived idea, but usually I research. If it's a ground-up project, just listening to what the clients want and looking at the site, sparks an idea. But then I go back and research: ancient and current history, surroundings, weather and wind patterns. I probably put more research into my design than most people. I think that's why we're so known for our unique boutique hotels.
Do you have a signature element? Something you always include when you're styling an interior?
Obviously in the design and architectural part of it, there's always this abundant use of natural and artificial light to create a dynamic, kinetic space. With styling, I do love beautiful handcrafted silver trays of very fine quality because I love the way they reflect the light. I also like glass, not decorative glass, but glass and silver because they help reflect light. A little silver tray with a candle on it is a little kinetic piece of art.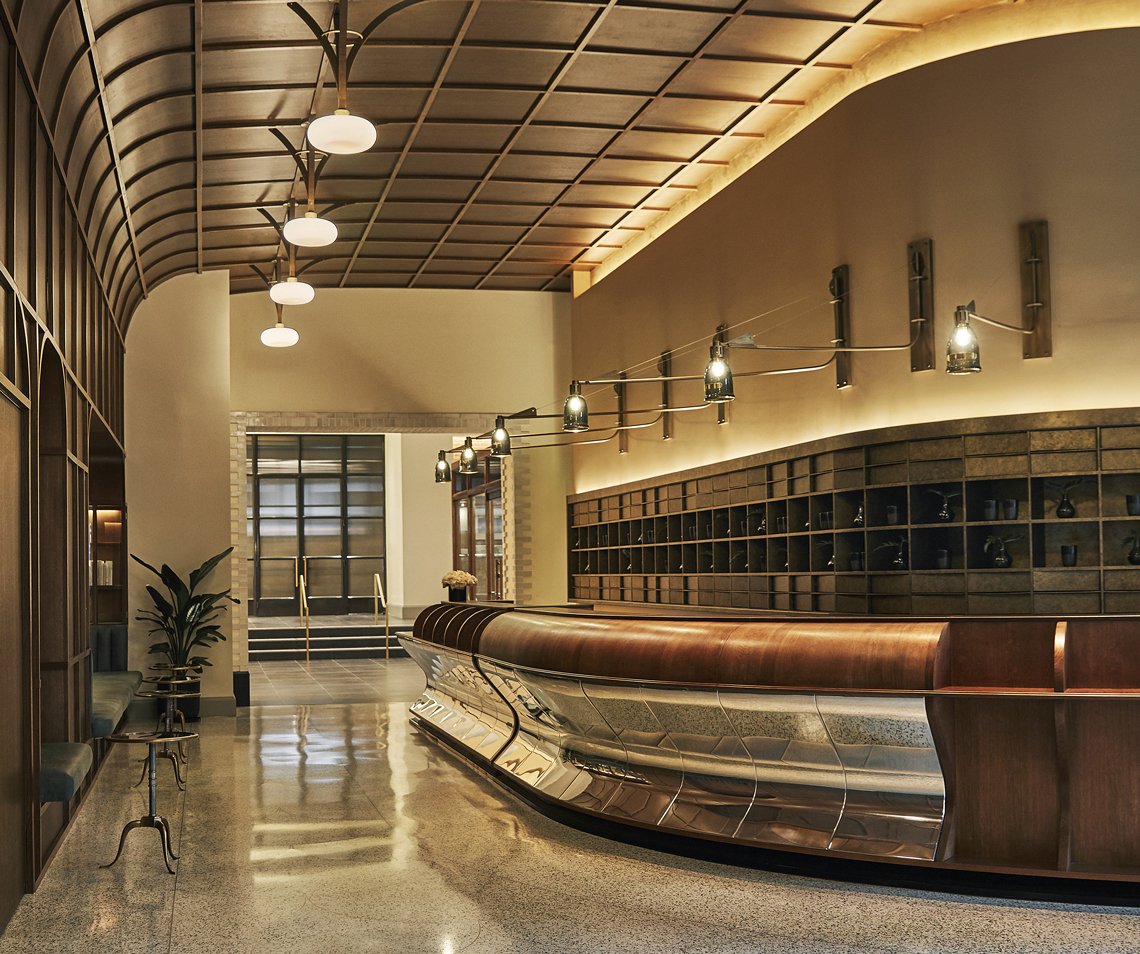 The Pendry San Diego is located in a new building in the Gaslamp Quarter with interiors reflecting the ambience of the historic neighborhood. The hotel lobby includes a polished aluminum reception desk resembling the riveting of an experimental aircraft from the 1950s, while the desk's wood panels are skillfully wrapped in polished aluminum and handcrafted by automotive fabricators. Photo courtesy of Pendry Hotel
SHOP LAUREN'S INCOLLECT FAVORITES



BEVERLY PEPPER

Flat Genesis, 1986

Gerald Peters Gallery




JOSEF HOFFMAN

1905 Big Bill Chandelier

Woka Lamps Vienna



MAISON GERARD

Émile-Jacques Ruhlmann Fine and Rare Settee

The Salon Art + Design 2018 Preview




GIO PONTI

Sculptural Walnut Coffee Table

soyun k.
Tell us what you love about Incollect and what one can expect sourcing with us?
I was having my hair cut and blown out, and spent the entire appointment on Incollect gathering vintage light fixtures. I love the way the site is incredibly user-friendly, allowing you to scroll down the whole category and zoom in right on that image and take a screenshot of it off your phone and store it all. So I go on there quite a bit for vintage lighting. I have some clients that will not buy anything unless they have physically seen it and would never order it. But the Incollect site connects you with the dealer. For this particular client I have gathered all the lighting and edited out the items that are from either Los Angeles or Manhattan. So that gave me the stores in both cities; my next step was to tell the designer working with me to arrange for the clients to visit and see them. It's great for the stores, because I might not have bought it through the Incollect site for this particular client, but it's going to get them into that store. And they may buy it, or they may buy something else.
The work of artisans is a key ingredient to Rottet's oeuvre and the Loews Regency New York features a wall covered with handmade plaster flowers by sculptor Nina Helms installed in the lobby of the hotel. Photo by Eric Laignel
SHOP LAUREN'S INCOLLECT FAVORITES



MAX INGRAND

Pair of Wall Lights, Italy, Fontana Arte, ca. 1955

Bernd Goeckler Antiques




HAROW

Orbital 2 Seater Sofa (Empire Edition), 2017

Wexler Gallery



CHARLES HOLLIS JONES

Swivel Vanity Bench for Hudson Rissman

Cain Modern




EMMANUEL BABLED

Osmosi Furniture 4

Twenty First Gallery